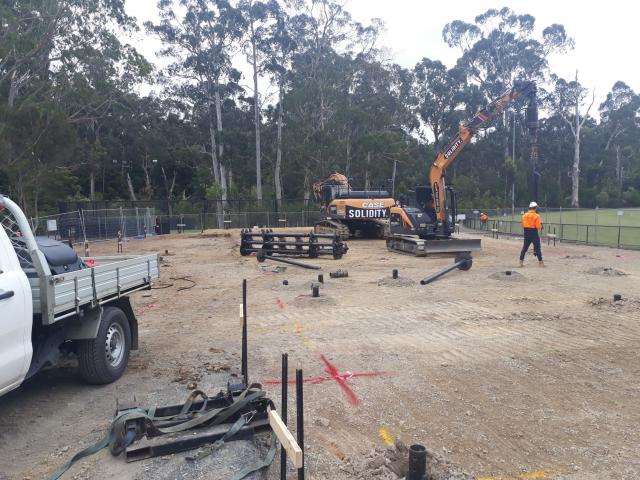 By Mikayla van Loon
Works on the Mount Evelyn pavilion have resumed after the Christmas break, a welcome sight after many delays prevented the project from beginning until late last year.
Mount Evelyn Sports and Community Hub president Bryan McCarthy said the builder, MelbCon, have had to work with less staff due to Covid-19 restraints but works are still progressing nonetheless.
Construction workers have been preparing the site for plumbing and irrigation to be installed to be able to connect showers, toilets, sinks and stormwater, with a concrete slab to be poured in the next few weeks.
In addition to staff shortages, Mr McCarthy said the ability to access materials has been causing some difficulties for the project.
"I think the biggest issue is going to be materials," he said.
"[The council and MelbCon] are aware of it and they're working on a project plan or a construction plan to try and minimise any of those delays.
"So they're constantly looking at it to say, 'Well, if we can't get that this week, can we do something else in the meantime?' So they're just shifting things around to keep everyone busy and to keep the project moving forward."
Yarra Ranges Council has confirmed the project is still on track to be completed later this year.
"From our perspective, it's a recommenced. We're really pleased. We acknowledge the fact that Covid is impacting on the availability of staff and potential delays because of materials but we're pleased that it's restarted and things are progressing," Mr McCarthy said.
While the build gets underway, Mr McCarthy said people are still able to apply to have a Foundation Brick named after their family.
"With all of the Covid stuff, I don't think people have really been thinking about it. So we were going to have a cut off and just go with whatever we had sold but what a lot of people are saying is they would like a brick but they can't commit at the moment because they're uncertain about work.
"A lot of them are working in, say hospitality or running small businesses and what's been happening over the last two months, it's causing a bit of grief for everyone."
Mr McCarthy said MESCH will keep the application process open as long as possible to allow as many people as they can to purchase a foundation brick.
Knowing that with school starting back soon and the cost to play sport might be hindering people's ability to purchase a brick, Mr McCarthy said the committee will do their best to work with people to ensure they don't miss out by way of a payment plan.
"We're happy to do a payment plan, we've already got a number of people on a payment plan and that's certainly helped a number of them make the decision," he said.
"We don't want anyone to miss the opportunity, and get through it and realise we should have made the effort to get our name up there."