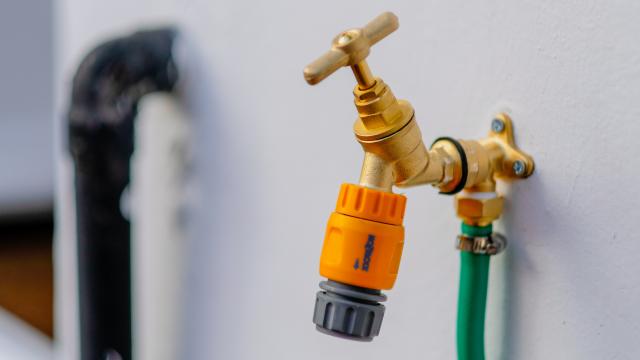 By Callum Ludwig
Mount Evelyn residents are being encouraged to take part in a new water saving campaign.
Yarra Valley Water has partnered up with City West Water, Melbourne Water and South East Water in a water conservation initiative called Make Every Drop Count.
The campaign's main message is 'Target 155' to reach a daily average of 155 litres per person, per day to limit their water use.
Based on statistics, an average Greater Melbourne resident currently uses 159 litres of water per person per day.
Managing Director of Yarra Valley Water Pat McCafferty believes the campaign will make people think about their values and where they can start to reduce water consumption in the first place.
"We know over 80 per cent of people who live in the metropolitan area are keen on water conservation, but there's almost a third who don't think they're doing enough," Mr McCafferty said.
"Interestingly, over 60 per cent don't actually know how much water they're using."
Melbourne is the nation's fastest growing city, with a predicted population of over 10 million by 2051 – almost double the current population.
As a result, greater pressure will be placed on water supplies and Target 155 aims to create incremental drops in water usage in order to maintain a sustainable level for future generations.
Mr McCafferty is excited by the discussion the campaign is encouraging, and particularly the ideas Yarra Ranges residents are coming up with and sharing.
"As we engage with people, particularly in the Dandenongs, there is a consciousness about looking at the environment and being sustainable," Mr McCafferty said.
"There's a lot of ways to save water around the home, but there's no monopoly on good ideas."
Residents of metropolitan areas as a whole have already adopted a positive attitude towards improving the efficiency of water usage, with 159 litres of water per person, per day seeing a decrease from 162 and 161 litres per person, per day in 2018-2019 and 2017-18 respectively.
The Make Every Drop Count website also lists different ways you can reduce water usage in the bathroom, kitchen, laundry and outdoors.
Around the house, the bathroom is the primary use of water seeing 40 per cent of the total usage, followed by outdoors at 30 per cent, the laundry at 20 per cent and the kitchen at 10 per cent.
Using buckets to hold or collect water in the shower or when washing a car are two ways water usage can be cut down in the bathroom and outdoors, and leftover water can be reused on the gardens.
There are some permanent water restriction rules Mount Evelyn residents should also be aware of:
– Hand held hoses must be fitted with a trigger nozzle and leak free.
– Gardens cannot be watered by anything other than a hand held hose fitted with a trigger nozzle or an automatic watering system between the hours of 6pm and 10 am.
– Hard surfaces (including, driveways, paths, concrete, tiles, timber decking) cannot be cleaned with water unless where cleaning is required as a result of an accident, fire, health hazard, safety hazard or other emergency, if staining to the surface has developed and then only once a season or in the course of construction or renovation.
– In the laundry and kitchen, it is encouraged you try and only run your washing machine and dishwasher on a full load, and turn on eco modes if your appliances have one.
Target 155 argues residents all simply need to use only around half a bucket less of water each day in order to achieve the goal.
Mount Evelyn residents can also be in with a chance to win weekly spot prizes, or a grand prize of $2000 by sending in their own water-saving tips and tricks.