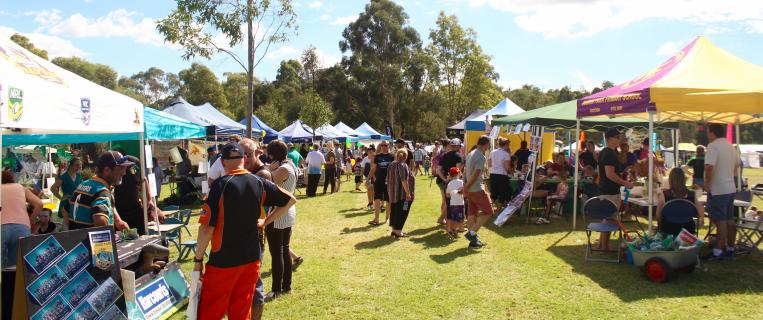 With the return of events and community activities in the area, Mount Evelyn residents are invited to join the festivities at Celebrate Mooroolbark next month.
After a few hard years the annual festival is returning, an event both the organisers and community are welcoming with open arms.
This year's theme is 'reconnect' in the aim of bringing everyone together again, from far and wide including Mount Evelyn, in Hookey Park for a beautiful connected community vibe to reactivate life and energy in the town.
With sponsorship from Yarra Ranges Council, the two day event will run over Saturday 19 and Sunday 20 March between 10am and 4pm with an abundance of activities and entertainment for all.
There will be 80 plus market stalls, classic cars, food trucks, competitions, a wool show, an animal farm, bands and live music, billy karts, and roving entertainment, meaning there is something for everyone.
"[I] loved the new location and two-day festival. It felt more personal and within reach. Friends and family with younger kids felt safer letting them wander (but not too far). The bands were fantastic and just enough variety of stalls without being overloaded," Mooroolbark local Ms Leondiadis wrote in feedback to the organisers after the event in 2021.
Celebrate Mooroolbark seeks to create a truly local festival that remains relevant to the people in the community of Mooroolbark and surrounding areas. It aims to bring together the full diversity of our region with a family-friendly event provided by and for the community. In so doing, we celebrate and enhance our community spirit, connectedness, and quality of life.
For the duration of the festival weekend, George Street will be open to foot traffic only. This creates a family-safe connection between Brice Avenue and Hookey Park, encouraging local shoppers to venture over and participate in the festivities.
Celebrate Mooroolbark also encourages the involvement of local schools and community groups to share with the wider community all the great things Mooroolbark has to offer.
If you'd like to get involved email schools@celebratemooroolbark.com or send us a message via the social media pages. Keep an eye out @celebratemooroolbark on both Facebook and Instagram for all the latest information about the competitions running, in particular The Great Mooroolbark Rock Drop, and Slinga Roll-er Toilet Paper!