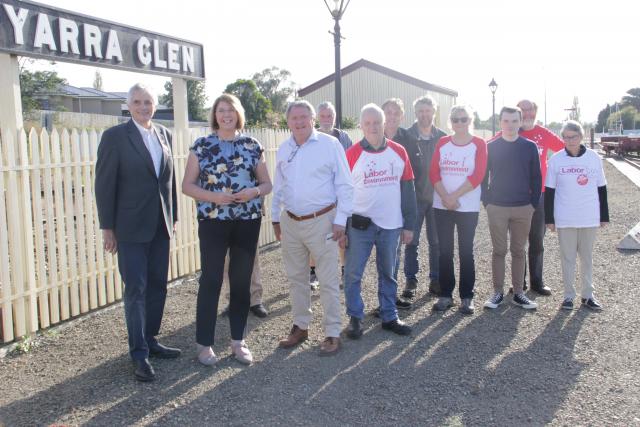 By Parker McKenzie
The Federal Labor Party has committed to $4.9 million towards fully funding stage 2A of the Yarra Trail if elected in the May federal election.
Shadow Minister for Infrastructure, Transport and Regional Development Catherine King announced the election promise at Yarra Junction Railway Station on April 8 alongside Casey candidate Bill Brindle.
"It's important we're not asking council or state government to match we're providing the total $4.9 million for the project because we want this council to be able to get on with the project and just get it done," Ms King said.
"It obviously is contingent upon us being elected at the next election. But we're prepared and competitive, but I'm not complacent about that at all."
The Yarra Trail will connect Lilydale, Yarra Glen and Healesville while linking up with the Lilydale-Warburton Rail Trail when completed, creating a network of trails for bike riding and walking.
Stage 2A consists of a track running alongside the railway to connect the Yarra Glen Township and Tarrawarra Road.
Yarra Ranges Mayor Jim Child said the local community has been through a lot since the 2009 fires.
"Truly it is such a wonderful announcement. We can deliver this project, you can walk, ride your bike from Lilydale through to here and connect right into this township," he said.
"That will be mean so much for the community and the businesses of this town."
Yarra Ranges Council expects the development to generate 27 jobs and attract 220,000 visitors a year.
Stage 3 of the project will connect Healesville to Woori Yallock and Seville.
Mr Brindle said the project will make a huge difference to the local community.
"From locals getting out and about to visitors supporting local businesses, this will create jobs and make the Yarra Ranges an even better place to live," he said.
"This is a great project for our region and I am so proud to be able to say that an Albanese Labor Government will deliver it."
Stage 1 of the Yarra Trail connected Lilydale to Yering, while a Yering to Yarra Glen trail is being built in 2022, which will feature reconstructed bridges replacing heritage bridges destroyed in the 2009 Black Saturday fires and a new bridge crossing the Yarra River.
A spokesperson for Minister for Infrastructure, Transport and Regional Development Barnaby Joyce said "Labor can't say how they'll pay for their promises and they can't manage money."
"Over the last 30 years, Labor has delivered higher unemployment, higher interest rates, and higher electricity prices and not a single balanced budget," the spokesperson said.