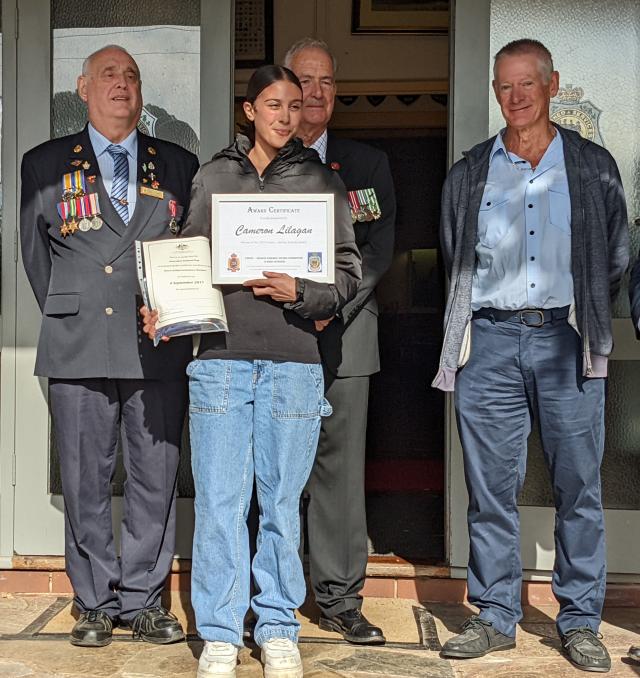 By Mikayla van Loon
The first Cowey-Selman Kokoda Award recipient has been announced and is now preparing to embark on the historical trip of a lifetime within the next few months.
Mount Evelyn Cire Community School Year 11 student Cameron Lilagan was named as the inaugural winner at the Monbulk Anzac Day service on Monday 25 April.
The joint initiative between the 39th Infantry Battalion (1941-43) Association, Mount Evelyn, Monbulk and Lilydale RSL sub-branches will send Cameron on a fully funded 10 day trek of the Kokoda Trail.
This year marks the 80th anniversary of the significant conflict in Australian history, making it a special year to announce the inaugural winner.
With a love of writing, Cameron impressed the judging panel with her application in the format of a well-crafted essay.
Focusing on the importance of the Kokoda Campaign in the Battle for Australia, as well as putting herself in the shoes of the Australian soldiers, Cameron embodied all the right elements needed to be awarded the scholarship.
"I didn't think I would have a chance, but I was interested in finding out more about the Kokoda Campaign….I was pretty shocked but very happy to be the winner," she said.
"Being involved was a bit of a breakthrough moment for me; something clicked. I just wanted to do this challenge and be stronger for the experience."
Mount Evelyn RSL secretary Anthony McAleer said while the judging committee tried to separate itself from the organising committee, the feedback of Cameron's application was extremely positive.
"What they fed back to us was that she displayed a very good knowledge of the importance of Kokoda but she was a person who has, in her life, faced some adversity and she's shown a lot of endurance and courage to take steps to make her life a bit more positive," he said.
"She's certainly someone who has achieved a lot in a short life in regards to her own personal goals and I think she was looking at this as continuing her own personal goals."
Drawing on her own life, as well as reflecting on the sacrifices, fears and challenges of those soldiers who fought for Australia, Cameron said as she learnt more about Kokoda she understood the imperative nature of all young people learning about it.
"It is so important for us to all get along, find peace and avoid war….the ugly situation in Ukraine really drives this home," she said.
Mr McAleer said the school was "certainly singing her praises", particularly principal Stephen Duke who was a reference on her application.
"Cameron is a strong, independent student with a desire to be successful. She is passionate and has a strong sense of justice. These characteristics she will bring to the opportunity," Mr Duke said.
While Cameron wasn't the only student from Cire Community School to apply, Mr Duke said all those who did "have shown an incredible amount of growth…despite the challenges and barriers they were faced with on a daily basis."
He knows Cameron winning the award will not only have an impact on her personal journey to learn and discover more about herself but will hopefully encourage her fellow peers to do the same.
Although a tough trek both physically and mentally, both Mr Duke and Mr McAleer are sure Cameron will be able to handle it.
"The qualities that [she has] will put her in very good stead because it certainly will challenge her physically and mentally too," Mr McAleer said.
"We have no doubt that this is the type of thing Cameron will be able to do and she will certainly come out the other end learning a lot more about herself and learning a lot more about the history of the Kokoda campaign."
Before setting off on her trip, Cameron will have to do some training for the walk and acquire all the appropriate equipment but the hope is she will be able to get to Papua New Guinea in the next few months.