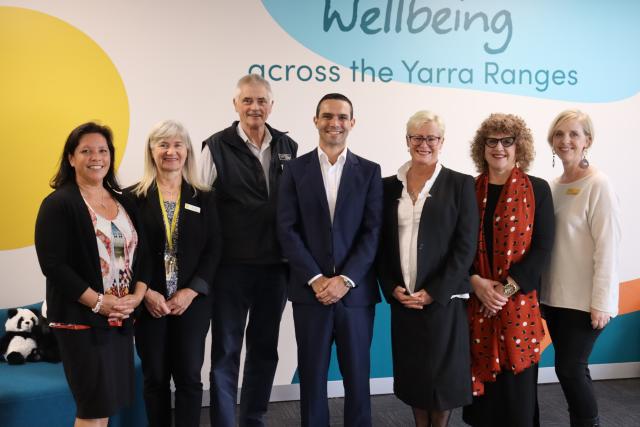 By Mikayla van Loon
Funding for the Lilydale Youth Hub was due to expire at the end of this year, leaving staff and the organisations in limbo about what would happen to such an important service.
With a pledge from Casey's Liberal candidate Aaron Violi of $3.5 million over three years, hope for the future has been given to the consortium of youth support services.
Inspiro CEO Sue Sestan said although the program was delayed by Covid-19, the results since opening in October last year have been unbelievable.
"It's amazing how the need or the gap that we experienced is being filled but it's shown itself to actually be responding to a bit more than the gap," she said.
"A lot of our young have nowhere else to go to seek services because of waiting lists. So at the moment, we're the first permanent response."
The multi disciplined service that includes Cire for education, Anchor for housing, Eastern Community Legal Centre for legal services and Oonah Belonging Place for First Nations' support, Ms Sestan said "having that wraparound service is really helpful. It means that they don't fall through the gaps."
Cire CEO Gus Seremetis said the service the Lilydale Youth Hub offers is "critical especially right now with what's happening with mental health" and with lots of children dropping out of school.
Anchor CEO Heidi Tucker said the catalyst for starting the Hub began six years ago at the Yarra Ranges Roundtable where police were becoming tired of seeing the devastation of young people taking their own lives and driving dangerously because of mental health.
"Young people, unlike adults, can't pick apart what their problems are, they come and they'll say, I can't stay at home anymore but they won't tell you anything else," she said.
"Anchor actually has a staff member here once a week for a day and we've actually picked up a lot of young people that were just about to fall into homelessness."
Ms Sestan said around 200 young people have been helped in the seven months the Hub has been open and it continues to grow.
Case manager Tania Stevens said while the age brackets vary, as well as the severity of each young person's needs, the transitional periods in their lives seem to be the most challenging.
"We have a lot of youngies, not necessarily 12 but 13, 14 transitioning into high school and that's been pretty tough for them, Covid wise, isolation wise," she said.
"They've spent a lot of time at home, cut off from the community, cut off from social supports and then thrown into high school."
Ms Stevens said at the other end of the scale, she has seen young people who have finished high school and may be ready to go into work or university who are struggling, as well as the middle age group of 15,16 and 17 year olds who have perhaps explored drugs and alcohol.
"The consortium partners and being run by Inspiro we're very lucky Hub wise that we can link into almost anything that we need," she said.
"Whereas if you're doing that on your own and you're struggling, you don't even know where to start. There's so many barriers, finance being one of them, transport being another, so as case managers, we can do lots of outreach."
Mr Violi said while this commitment from the Liberal government is for the next three years, should he be elected he would start the conversation around continued and ongoing financial support for the Hub.
"So that's the next step for me in this journey is making sure that it's secure into the future," he said.
"[Mental health] is an area like many people, we've all got stories of unfortunately losing friends and I lost a friend in high school.
"I also know the pandemic has made it harder for everyone at all levels and young people have felt that as well. This model works. It's a really important model for Casey [because of] its diverse, unique nature."
Fellow Casey candidates were contacted for comment and some have provided their response to the announcement made earlier in the week.
United Australia Party candidate Anthony Bellve said both major parties have caused a mental health crisis and he would work to repair the damage done to the best of his ability.
"If elected, I am committed to securing the funding the Lilydale Youth Hub requires to continue providing their invaluable service," he said.
"I have seen and experienced the difference good mental health services can make, so I am also committed to ensuring access to mental health services is expanded throughout Casey."
Independent candidate Claire Ferres Miles said she had heard from Casey residents about the "challenges in accessing timely mental health support" and appointments.
"All three levels of government (Local, State and Federal) need to work in partnership to develop an agreed funded mental health action plan to address this issue with high quality accessible services that are available when people need them," she said.
"The stewardship of public money is a core principle of democratic representation that requires the highest integrity and rigour, agnostic of electoral boundaries and alignment to political parties.
"The recent cash splash in Casey with daily funding announcements from both major parties does not accord with these values of integrity."
Greens candidate Jenny Game said the focus of her party is to expand Medicare to ensure mental health is covered by the program.
"We also plan to divert funds from the chaplaincy program in schools to other counselling services," she said.
Ms Sestan said the Hub allows a systems approach to mental health support, a relatively new idea of working collaboratively and this funding is essential to continuing that work.
"We actually have a case management model, which we still have to enhance, there's work to be done. That's why the next three years are really important because it's about improving what we've struck as a good, innovative model."