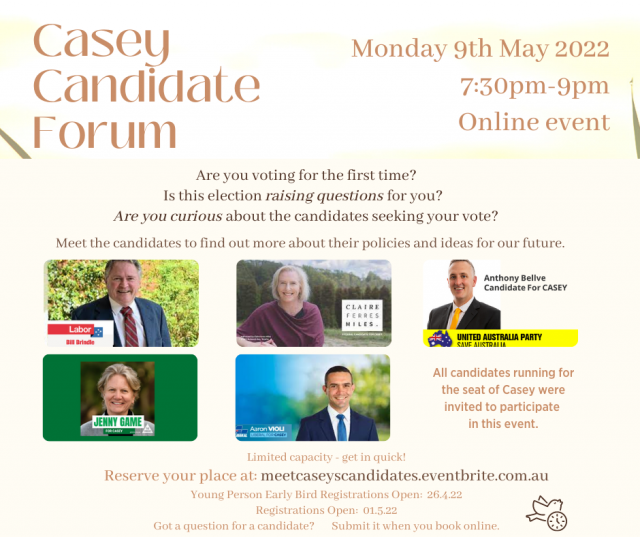 By Mikayla van Loon
With the federal election fast approaching, events to get to know the candidates vying for the title of MP have been organised across the electorate.
The most recent was an evening hosted by the Montrose Township Group, the Kilsyth Community Action Group, the Mount Evelyn Township Group and the Mooroolbark Umbrella Group on Monday 9 May.
Star Mail joined the online session where residents were able to hear from each of the representatives before moving into breakout rooms, enabling those in attendance to choose who they wanted to hear from.
Questions were put to the candidates on topics like climate change, NDIS, mental health and equal opportunity.
Greens candidate Jenny Game said "we are a social justice party" and much of the policies her party is engaging in revolve around that mentality and taxing companies not paying tax to provide investment in these areas.
"We want to fully fund the public systems so that everyone can get a place in aged care, in childcare…and we believe the government has a role in all of this," she said.
Liberal candidate Aaron Violi said the changing climate is an important issue for the Casey electorate having been impacted last year by the June storms and solutions to this include investing in technology and things like hydrogen.
"It's important that we continue to invest in emergency resilience in Casey…[but climate change] is a global challenge and we need to acknowledge as a country that we actually export more emissions to other countries than we generate here in Australia."
Labor candidate Bill Brindle said when it comes to childcare, often women are left with the decision on whether they can afford it or not.
"The advantages of having women wanting to rejoin the workforce…is that their contribution to the economy is enormous…It is so important that we make childcare affordable."
Australian Federation Party candidate Chris Field spoke about his party's intention to represent all people, no matter who they are or where they come from, particularly with such a diverse population across the electorate.
"So as a representative of this community, my job is actually to go out and interface with the community…residents of Casey are deserving of equal responsibility on my part, whether they are Aboriginal or migrant people, or veterans, young, old or in between."
United Australia Party candidate Anthony Bellve was quite focused on providing better mental health services in Casey, as well as improving telecommunications in the electorate.
"There's not enough funding and what funding is available is not enough to provide the level of service we need…I've seen first hand what good mental health services can provide and the lives it can save."
Independent candidate Claire Ferres Miles said there were four major system breakdowns with the NDIS that she had heard from the community which needed addressing.
"We've had a number of parliamentary inquiries with recommendations that have not been implemented…we need to return to the intention of the NDIS legislation which was all about quality of services, access to services and making sure the person is at the centre of the support they need."
To hear more from the candidates in attendance, go to the Montrose Township Group's YouTube page.