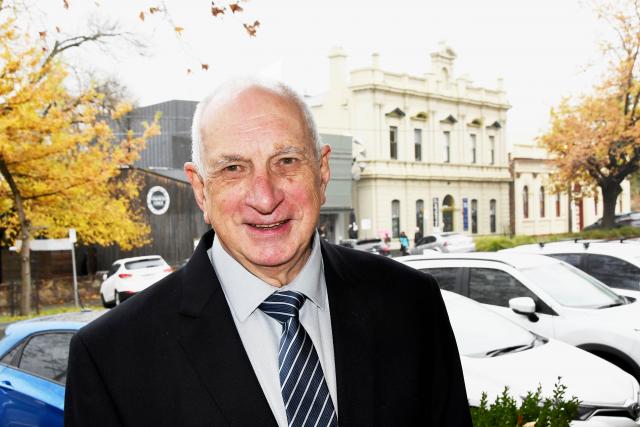 By Callum Ludwig
A Wandin North resident and Lilydale podiatrist has been added to the list of Yarra Ranges residents recognised for their service to the community by way of an Order of Australia Medal.
And Dr William Mackieson, who simply prefers to be known as Bill, is immensely deserving.
The Wandin North resident served with the St John Ambulance Victoria for 50 years from 1959 to 2009, as well as being the friendly face behind Morecroft's Podiatry in Lilydale.
Dr Mackieson said he really didn't expect awards for anything he's done in the community and was humbled to receive the honour.
"I feel like I've probably done nothing compared to a lot of other people and they deserve it a lot more than me, but I guess it comes as a bit of a bonus and I am very grateful," he said.
"There's no doubt Yarra Valley is a really good community, and people ask if I would ever move to retire in Queensland or something like that, but I would never."
At the age of 76, Dr Mackieson is still working long hours at his podiatry clinic and has no intention of retiring yet.
Dr Mackieson said there's nothing better than community work, and it is so important for a lot of people to give it a go.
"It's quite rewarding, you don't look for rewards, but it is rewarding in itself to do something to help another person, even if it's just helping an old person to cross the road," he said.
"Just helping people, that's what we need to do, and that's why I keep trying to do it. We have a really good community that respects each other, looks after each other and helps each other."
Dr Mackieson is no stranger to awards and recognition, despite his insistence he does not need them, having progressed from a Member of the Order of St John Ambulance in 1974 to Officer of the Order of St John in 1981 and finally a Commander of the Order of St John in 1989.
From receiving a Long Service Medal for St John ambulance in 1972, and the 1st Bar to the Long Service Medal in 1977, he went on to be on his 4th bar by 1992.
He also received a Meritorious Service Award, following the 1983 Ash Wednesday fires.
Dr Mackieson said that was one of the most confronting experiences he's had.
"You don't realise when you are given a vehicle until you get out and feel the heat blast radiating from the bush fires close up. I had done a lot of Bushfire training before that, but when you are confronted with it, oh my god it's real," he said.
"I was the officer in charge of organising first aid services, trying to make sure that everybody is looked after. So not only was it treating first aid but particularly looking after my crews and we didn't have the best communications in those days, but we got through and I was lucky enough to receive the Meritorious Service Award."
Dr Mackieson started as a Youth Member of St John Ambulance Victoria when he was 12 and progressed all the way to the ranks of Corps Officer in Eastern Region from 1973 to 1979, Region Manager from 1979 to 1986 and District Staff from 1986 to 1992 before staying on as a volunteer for a further 17 years.
Dr Mackieson wasn't always a podiatrist, starting out in footwear retail and co-owning Morecroft's Shoes from 1972 to 2010 but went back to study after a dip in the retail industry and has been Director and Principal Podiatrist of Morecroft's Podiatry since 1999.
Dr Mackieson said he specialises in ingrown toenail surgeries.
"As gross as it might seem, I do surgical procedures pretty much every day and I've done well over 3000 from as young as seven years old to as old as 96 years old and everything in between," he said.
"I was talking to a man I did surgery on almost 20 years ago and he said it was the best thing he ever did."
Dr Mackieson has previously been a Clinical Supervisor of podiatry students at La Trobe University and was formerly on the Board of Directors of the Australian Podiatry Association as well as an Affiliate Member of the Australian College of Podiatric Surgeons since 2019.
Between his busy life of podiatry and first aid, Dr Mackieson somehow also found the time to help celebrate and progress the Yarra Ranges.
He is a current Affiliate Member of the Lilydale Business Group and of the Lilydale Sub-Branch of the Returned and Services League (RSL) of Australia. Previously, he has been the President and held other roles in the Lilydale Chamber of Commerce and Industry, was a Civil Marriage Celebrant for 20 years, a Bail Justice for Victoria for 10 years and a Justice of the Peace since 1982 despite doing less in recent years.
Dr Mackieson said beyond all of his community efforts, he likes archery and visiting the high country and the Outback.
"I'm a member of the Yering District Archery Club, I'm on the committee there and I'm a coaching coordinator. I am a qualified level one coach through Archery Australia, which I did a couple of years ago and thought to myself 'Why am I mid-70s and doing a course at The Australian Institute of Sport?' but I did it and enjoyed it," he said.
"I also enjoy a bit of four-wheel driving in the high country, that's probably my favourite, or the Outback or anywhere like that. I enjoy the outdoor life as well as helping people out with their feet!"