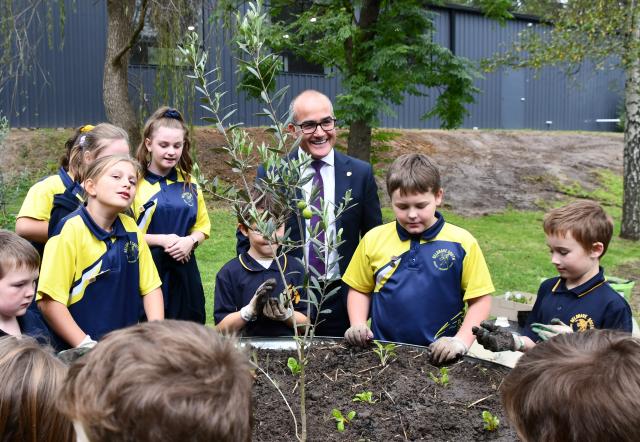 By Parker McKenzie
Monbulk MP James Merlino has resigned as Deputy Premier, Minister for Education and Minister for Mental Health and won't contest his electorate in the November state election.
Mr Merlino announced he had advised Premier Daniel Andrews of the decision on Friday 24 June. In a statement, Mr Merlino said his 20-year journey is coming to an end.
"It has been an honour and a privilege to serve in the Victorian Parliament and represent my community of Monbulk," he said.
"I leave with feelings of deepest gratitude, a little sadness and excitement for the future."
Mr Merlino was first elected to government in 2002 and briefly served as acting premier when Dan Andrews was injured in March 2021.
He thanked Mr Andrews and said he was a leader of courage, determination, intellect and kindness.
Mr Andrews said in a statement Victoria has never had a better acting premier.
"In 2021, James seamlessly took over chairing the Cabinet and leading the Government at a difficult time for our state and a tough time for me and my family," he said.
"I will forever be grateful for his care and concern but moreover, his competence, allowing me to focus on recovering from very serious injuries, confident, indeed certain, that the state was in the best of hands."
Mr Andrews said he has asked Mr Merlino to stay on in the role as campaign chair, a role he unofficially filled over the last two election campaigns "and I am grateful he has accepted."
"James is a great campaigner because he is part of his local community, and he lives his Labor values every day," he said.
"For 20 years, I have always relied on his political instincts, his wisdom, his work ethic and his conviction. There's no one better under pressure, especially when the stakes are high. He always delivers."
Mr Merlino highlighted his time as minister for education and said it was a dream of his to serve in the role.
"Education is a noble profession. It transforms lives. It's through education that we can break the cycle of poverty," he said.
"It's through education that we achieve our individual dreams and aspirations. It's through education that we prosper as a society."
He thanked the other premiers he has served under — Steve Bracks and John Brumby — and his staff who have supported him throughout his time as a member of parliament.
"Thank you for helping me look after the beautiful and unique electorate of Monbulk," Mr Merlino said.
"I live in and love the hills, I very much look forward to spending the rest of this term continuing to serve the people of Monbulk."
Finally, Mr Merlino thanked his family and his wife Meagan for their support.
"We've never known anything other than politics as a family. It has an impact in big and small ways – family events, local sport and children's milestones missed – and even when you are there, there are many times when you're not truly present," he said.
"Politics undoubtedly puts a greater burden on your partner than should ever be the case."
Mr Merlino will see out the remainder of his term as Monbulk MP before the 26 November state election, where Labor will nominate a new candidate to take his place.