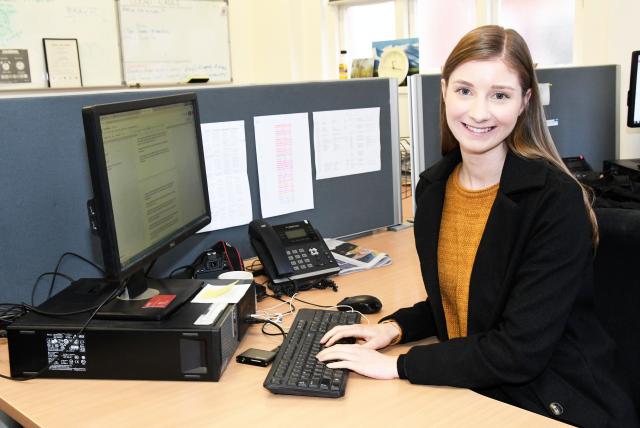 By Renee Wood
With news publications looking to adapt with the future of digital news, there's no denying the changing landscape is a daunting one.
It's a turbulent environment for long standing print mediums to follow, trying to stay relevant while learning the new ways of future reporting.
As younger generations take to social media or turn to digital publications, there's still always a place and value for the printed publication, but the desire to maximise coverage across what's available is high.
That's something the industry is gathering together to do, and it's a train the Star News Group has jumped on.
A new Digital News Academy has been launched by Newscorp, Melbourne Business School and Google, allowing publications from all over Australia enlist their savvy reporters into the course.
And that savvy reporter for Star News is our highly competent and engaging reporter Mikayla van Loon.
Ms van Loon reports for the Star Mail newspapers, predominately looking after the reporting for Lilydale and Mount Evelyn areas.
She's leading the charge for the company as the first digital academy student, sharing with us the tips and tools that are needed to make an impact on the big wide web.
Ms van Loon willingly enlisted in the course because she thought it was a good opportunity to expand her knowledge.
The RMIT graduate of 2020 said she's always wanted to write for print but was interested in how social media can create greater engagement with readers.
"That intrigued me and wanting to just build my skill set knowing that moving forward it's really going to be those digital platforms that takeover," she said.
Since the course began Ms van Loon has joined for online webinars having discussions around digital platforms such as Instagram, Facebook and Tiktok, while being taught how to create content such as creating videos via phones.
Also speaking with leaders in the digital space such a Wall Street Journal Social Media manager Julia Munslow and Hashtag Our Stories co-founder Yusuf Omar has been a great eye opener.
"That was really interesting to hear how a really traditional Wall Street Journal publication is taking Tiktok on board," she said.
"So far hearing from those people has probably been some of the best parts of it, learning from or hearing from people who have been really investing in this new digital landscape.
"It's just interesting to hear from other people about the possibilities of what media could become – some of its really scary and how do we actually do this in a good way."
Ms van Loon is a third of the way into the course of nine months and is looking ahead to data journalism and other digital techniques which will be included in the course.
A trip to visit the Google headquarters in America is also on the cards for the most engaged reporters and certificate badges which will be recognised globally is also provided on completion.
Until then, Ms van Loon will be looking to use her new found digital skills within Star Mail – so watch this space for more to come on our social media and digital platforms.