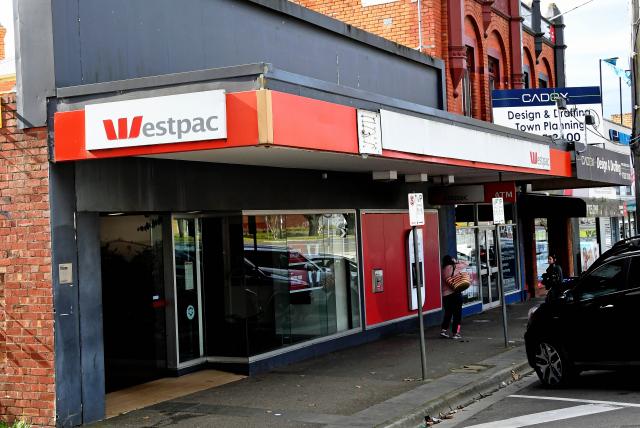 By Mikayla van Loon
Lilydale and Croydon will see two major banks close their branches in these locations as part of an Australia-wide shutdown of stores.
Westpac's Lilydale branch and Croydon's Bank of Melbourne will close over the next few months, leaving customers with extra travel to the next closest branch.
In total 37 bank branches from all big four banks will be closed across the country as more services make the move to online.
A Westpac Group spokesperson, which operates both Westpac and Bank of Melbourne, said with five million customers around Australia, making changes to the way people bank is about "investing in services to complement" that choice.
"Declining customer use of branches means that in some instances, we may take a difficult decision to leave a branch location," the spokesperson said.
"In these instances, we continue to support our customers by expanding access via Bank@Post, telephone, mobile and virtual banking."
But Finance Sector Union (FSU) National Secretary Julia Angrisano said the closures were more of a tactic to increase profits rather than support customers.
"The banks continue to shut down branches, sack workers and turn their backs on customers and businesses. Cost savings from branch closures are designed to increase the banks' already huge profits," she said.
Ms Angrisano said this next lot of closures will increase the total number of big four bank branches closed since January 2020 to 550.
"Communities depend on the banks to deliver financial services but if we don't stop the current trend, there will be no branches left."
Lilydale Township Action Group president Neal Taylor said he finds it ludicrous that multi-billion dollar companies see the need to improve their bottom line even further by closing stores.
"Lilydale is basically a community hub for the Yarra Ranges. We've got all the medical services here as much as we can and it's a shame that banks are now falling out of this area completely and not considering that we have people from all places in the Yarra Ranges coming to Lilydale to do things like banking," he said.
"I don't think there's any real thought about what they do and what repercussions of closing these places is actually going to cause."
The Westpac spokesperson said Lilydale customers can travel to Chirnside Park, just four kilometres away, to access a branch, use the cash services at the Lilydale Post Office and access the Westpac ATM at the Marketplace.
Croydon's Bank of Melbourne customers can also access cash services at the nearby Post Office, as well as use an ATM at either Kilsyth or Croydon Centro.
"We take steps to ensure customers are notified in advance about the changes and are directly connected with the services they need to continue to do their banking," the spokesperson said.
"For those who are new to digital banking, or may require more assistance with the changes, we provide dedicated support and education to make the transition easier."
Mr Tayor said however, for many people in the Yarra Ranges, they don't need more changes after so much disruption and uncertainty over the last few years.
"I just don't think they need these extra stresses where they're going to have to go an extra four kilometres to get money out, for example. It's just sad that things like this are happening at this point in time," he said.