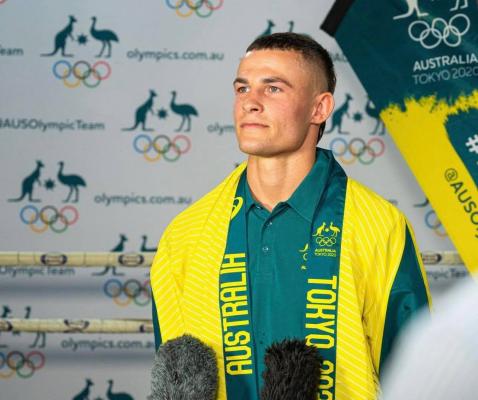 By Mikayla van Loon
Mooroolbark Olympian Harry Garside was ready to rumble on Sunday night as he stepped into the ring for his first boxing bout at the Tokyo Olympic games.
Facing a tough competitor in Papua New Guinea's John Ume, Garside knew he had to box to his strengths in the round of 32 on 25 July.
"My first fight is on Sunday night against PNG, a nice and strong opponent so I'll just be looking to box smart and not take unnecessary risks," Garside said prior to his first round.
In an interview with 3AW's Neil Mitchell on Friday 23 July, Garside's mum Kate said she was nervous but trusted in her son to have done the preparation.
"I know Harry has done all his preparation and the rest is up to him now, I just have to sit back and watch it from Australia," Ms Garside said.
Having worked on his defence and traditionally being a counter-boxer, Garside preempted most of Ume's punches but a hard blow early on rocked the Mooroolbark local, which saw him stumble slightly.
Nevertheless, Garside took out the first round with all 10s from the judges.
Light on his feet and owning most of the space, Garside was able to hold his own in the ring, with his coaches telling him not to do anything silly and to stay calm heading into the third and final round.
Although proving a suitable opponent, Ume couldn't keep up with Garside who won his first bout in the lightweight division in Tokyo with a unanimous decision 5-0 from the judges.
Showing his character, Garside thanked and hugged his opponent afterwards, as well as Ume's support crew in what was a moment of utter sportsmanship.
Boxing at the Olympics started as a dream at nine years old but it was Garside's dedication and training that got him to this point.
"He just decided [boxing was] what he wanted to do and he took himself off to the gym down in Lilydale and his coach Brian Levier who is still his home coach said to him 'you can't fight until you're 12' so he trained every night for three years until he could get in the ring," Ms Garside said.
"His success story wasn't that great to start with, he didn't win that many fights but he just kept going at it and this was his dream and he's now fulfilling it at the Olympics."
Although athletes get tested daily and have to wear a mask, Garside said the Olympic Village is better than he imagined.
"Village life is great, absolutely beautiful over here in Japan. Extremely humid but I love the heat," Garside said.
"Restrictions are present but we also have a little bit of freedom to relax and unwind post training. Every day it is just getting a little busier in the village which is great."
"My second night here I had this overwhelming feeling that I am so grateful to be human. Pretty amazing what we can create when we all work together for something positive. So beautiful to see all different cultures and people humanising together in peace."
Ranked tenth in the world, Garside's chances of taking out a gold medal is in reach but he will have to face another challenge in the number two seed Namibia's Jonas Jonas in the round of 16 on Saturday 31 July.