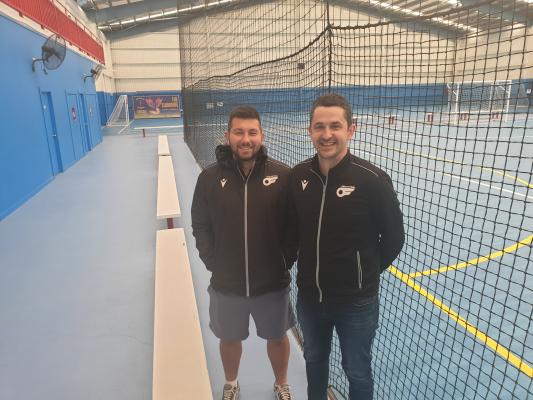 By Parker McKenzie
Pro Futsal Mt Evelyn is unassuming from the outside nestled out the back of the suburb on Hereford Road, the exterior hides a cavernous and slick sports centre within.
Four courts inside the giant warehouse feature an iconic blue colour scheme left over from the centre's previous owners.
Those who haven't visited since the centre was closed due to the pandemic will see some immediate changes.
The middle courts, previously much smaller than a regulation futsal pitch, have been earmarked for juniors with the ability to combine into an Olympic sized playing field.
Futsal is a five aside, indoor variation of soccer that is becoming increasingly popular around the world.
Director Steven Campbell and Centre Manager Terval Atanasov took over the facility due to the previous owner Futsal Oz being unable to continue due to the pandemic's effects, with community sport being cancelled for a large portion of 2020.
The pair have faced similar challenges since taking over in partnership with Pro Futsal in April 2021.
"We haven't really had a month fully open yet so we're keen to see what we can build," Mr Atanasov said.
"I think the interest is still definitely here with the juniors, socials and we're trying to go at it from a different angle."
Mr Campbell knows as a parent of young children that convincing people to come and play after lockdown will be one of the hardest challenges the centre will face.
"The big emphasis of sport is that it's almost too hard right now. We'll see a lot of kids not coming back," he said.
"Whether that is because they want to play Fortnite now or they're just a little bit anxious and nervous about coming out the house after two years inside.
"Families are really important to us, as a parent I know taking a kid to the same place every week, being there for 45 minutes and the kids both had a blast and are exhausted by the end is something rare and special."
Futsal in Mount Evelyn looked on its last legs when the pair took over management in an effort to preserve the community sport.
After running futsal clinics and clubs for juniors for a number of years they boldly took a chance on what they say is one of the best futsal centres in Australia.
"We've taken a real gamble in this place, not just from a personal side as well, but also because we've been involved in the sport for so long," Mr Campbell said.
The new Olympic-sized court has already attracted interest from outside the Eastern suburbs.
"We'll have a competition in January where all the champions of futsal around the country will come to play in a two day competition here because of the size, it's almost a Kevin Costner type scenario, build it and they will come.
"There were talks of Solomon Islands coming here before going to the Futsal World Cup in September which was all secret squirrels. That was something we sadly missed out on because of Covid, but we are going to change the chairs into stands for any future potential big games we might host.
"If it's some games, friendlies, or even trials it would be great, just something to put us on the map and to say to people that the east is still a real hunting ground for talent."
Steven is now hoping for the opportunity to give back to the sport that has given him plenty already.
"The game has been good to us. The number of different people we meet and know, we get invited to workshops from Football Victoria and we're affiliated with them now which is an important piece.
For Mr Atanasov the best part of being involved in futsal is the growth of the children he coaches.
"We've had the delight of seeing all the kids started with us five, six years old and they're eight now," he said.
"Their ability when they step onto an outdoor football pitch is outrageous. They love getting the ball and realising oh my god I have so much time to do whatever I want."
Pro Futsal Mt Evelyn reopened on Monday 8 November and is running leagues for all ages and skill levels from Sunday to Thursday every week.