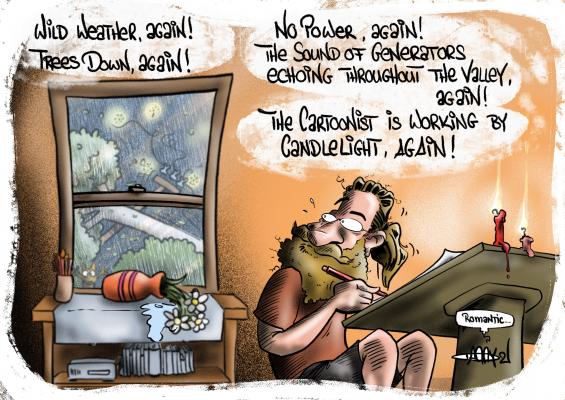 By Danny Zemp, Cartoonist
Let's see – you are fast asleep in your warm bed on Friday morning, about an hour before the alarm goes off, you hear this mighty bang – crash, crack and boom.
What on earth was that? Power is out and it's still dark, lovely!
You find the torch and head outside, since that's where the noise originated from.
Now your outside world is a jungle, a massive jungle – leaves everywhere, branches all over the shop.
That can't be that good. To the end of those branches you find a huge trunk of a tree attached, going back to bed for another half hour is out of the question.
The wind is still howling above but you head further up the road to investigate what else is going on.
Soon you realise that there are more trees down and still they are uprooting left, right and centre, a dozen or so are down or are still on their way.
The road is blocked and the power line has a rest on the road next to a fallen tree. What a mess. The neighbours driveway is blocked with a years worth of firewood.
Rightio, the chainsaw will have a workout, it's good that it's in a serviceable condition and fuel is available, ready to reload enough till lunch time.
Here you go, armed with a two stroke powered device in hand and a head torch to show the way, the firewood is cut to fit the Coonara.
First the road, you can't get help if the road is blocked. There is one early riser who needs to go to work, it's the long way 'round today my friend – then on with the neighbours driveway.
A few hours later you are wet and sweaty, covered in sawdust and the faint smell of bar oil all over you. By now you can see what is going on.
The the wake up caller at 5 is that large Manna Gum that chose to rest on your bedroom, the rootball is a good thirty metres away from the bedroom.
The coming days you are occupied with cutting, splitting, dragging, burning – it's full on.
Eventually you need to get fuel, you realise that Healesville is still a Metropolitan town, good.
The fuel should be metropolitan as well, how wrong you are, you grizzle under your beard and pay premium price for 91RON.
On with your job, there are others who need a hand as well. It's nice to have a long weekend from time to time.
Oh, when is power going to be back on? Well, it all looks nice and clean here, no need to rush things. Probably seven to ten days, maybe more.
That's the thank you one gets to make sure the road is passable and the save? Thank you. You're not the only one. There are a number of generators echoing between the hills.
Now you have to deal with the insurance. Within hours of starting a call to them, you get a human to explain what's going on. Within minutes you get told the premium for next year will likely double.
And they won't pay you for the stuff you've done. You didn't have your back to the wall when you bent over to pick up that piece of wood, did you?
Now here you are, a cartoonist in the dark trying to piece together what to draw with the power of candles. I'm done with my whinge, life is generally good.
I'm only tired to listen to the sound of a low flying B-52 in the back yard.