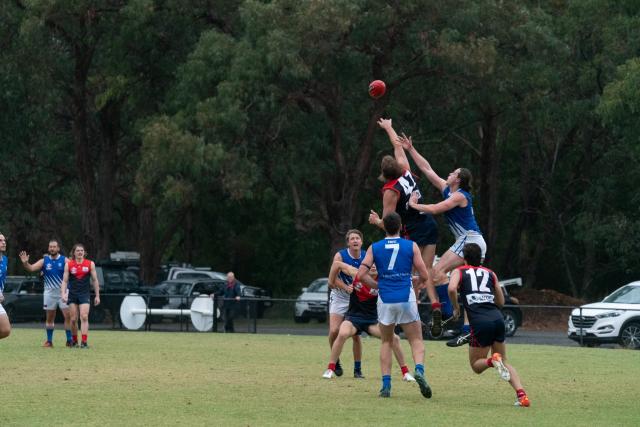 By Mikayla van Loon
In a round one clash against the division one favourites East Ringwood, Montrose Football Club fell short by just two goals during a wet tussle between the sides.
As the first game of the season and first game for new coach Gary Ayres, although not a win, the result was pleasing to the coaching staff and players.
"I felt our preparation had been building, we had three practice games and in each game, we were a little bit better in the areas that I would like to see the team be able to play, such as our systems and our structures and just our ball movement," Ayres said.
But with the rainy conditions in Saturday's opener, Ayres said East Ringwood was probably better suited to playing in the wet.
"That probably suited East Ringwood a little bit more with their bigger bodies and I guess a little bit more experience but they actually adapted to the conditions better and it took us a while," he said.
Coming back after halftime, Ayres said the team regrouped and attempted to adapt to the wet weather.
"I thought our second half from a contested ball and actually staying in the game from a perseverance and persistence point of view, I thought was really, really good.
"When I wrapped up the game, I was pleased with what we tried to do but it's a lesson and there was lots to get out of the game from the learnings point of view particularly if it is going to be wet, even though we haven't played in those conditions, we've got to adapt and the football becomes fairly fundamental."
Heading into round two against Wantirna South, Ayres said it was another chance to improve on the things that held the team back like moving the ball out of congested areas and making the most of scoring opportunities.
"What we can do is make sure that our mind is open to trying to get better and continue to try and refine what we know we can do well but also do the things that will give us a better opportunity to put more pressure on the opposition."
Five players made their debut on the weekend, with a number of players also returning to the club for the 2022 season, each playing their part in the side and performing to a high standard, something Ayres said was a promising sign for the rest of the season.
Although just one game under their belt, Ayres viewed the first round as a base to build on throughout the season.
"It should give us some confidence to be honest. We're trying to develop depth, we're trying to develop a squad that will hopefully give us an opportunity to play finals," he said.
"It sounds cliche but it is really about one game at a time but it's really about one quarter at a time.
"We believe that we have got the makings of being a better side, it's just really how much better we can be and that's going to be seen over the coming weeks and months."