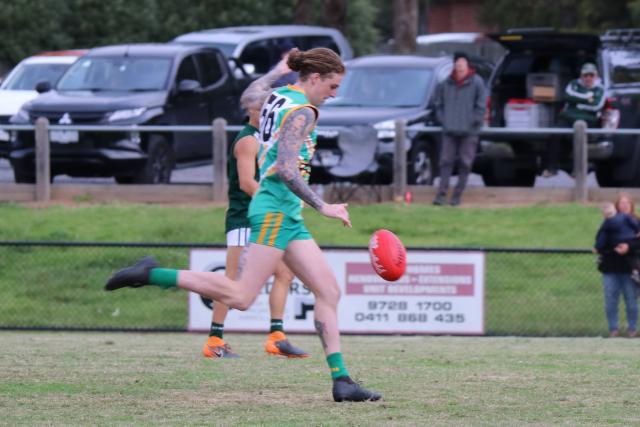 By Mikayla van Loon
Mooroolbark Football Club was able to walk away from the first round of the EFNL's division one game against Mitcham with a strong 26 point win.
The promising start placed Mooroolbark second on the ladder behind Bayswater, with the senior coach Bret Lavers saying it was a good opener to the season.
"We managed to get the four points albeit a very challenging day against Mitcham who are a very good side," he said.
"For probably three and a half quarters they were right with us and it was only late that we managed to get on top of them and secure the victory."
Pleased with the pressure placed on Mitcham, as well as the roles some younger players and some new recruits had on the field, Lavers said the coaching group was happy with the result of round one.
Former AFL player Heath Hocking made his debut at Mooroolbark on weekend, finding his feet in the first half but stepping up to the mark at the end.
"He improved as the game went on and he was fantastic for us especially in that last quarter," Lavers said.
Moving forward into the season, Lavers said there was not one side that he necessarily saw as the top contender although on past experience East Ringwood would "probably be the benchmark for everyone."
"We're still taking it one week at a time. In our division, as close as it is, any side can knock over anyone on a given day.
"I think that probably proved to us and our boys that if we get our system right, we're a good football side and our best can beat anyone on our day, it's just a matter of being able to execute that."
With new coaches in Gary Ayres at Montrose and Luke McCormick at Lilydale, Lavers said the season could be quite competitive at a local level.
"To be able to go back to our local community and play some derbies against Montrose or Lilydale or Croydon I think is really exciting.
"It puts footy in perspective sometimes with what's happened in the last couple years, but hopefully we're free of that and we can get to play some good footy against some good quality opponents."
Lavers said local footy competitions are designed to bring the local community together and he hopes throughout the season the excitement of Mooroolbark's football will do just that.
"Our expectations are that our best footy can compete with the best of them and I'd like to think that the game style we're going to play is going to be an exciting game to come and watch for our members, supporters and players alike.
"So we hope that everyone embraces what we're trying to do with our footy club and our group can hopefully win enough games to play finals."