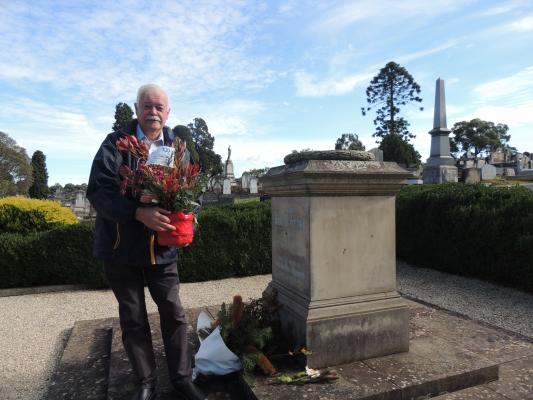 By Mikayla van Loon
Wednesday 19 May marks a special day in Lilydale's history – the birthday of Dame Nellie Melba.
But instead of just remembering her on her own, the Rotary Club of Lilydale and the Lilydale and District Historical Society came together to celebrate 100 years of Rotary in Australia as well.
On the 160th birthday of one of Lilydale's greatest talents, members of the two groups, along with descendents of the rotarians being honoured in a special cemetery tour, gathered at Lilydale Lawn Cemetery.
Family members came from Bairnsdale and the other side of the city to hear about the lives and stories of parents, grandparents and other relations.
The names of those honoured included Charlie Arnold, Snow Castles, Keith Fraser, Jim Grover, George Hamilton, Ken Hawkey, Ivor Maggs, Len Morecroft and Doug Pulllyblank.
Amazement crossed peoples faces as they reminisced about their families and the links that formed between the different families.
Lilydale Historical Society president said it was great to see how many rotarian families also had connections to Melba and her father David Mitchell.
"It's something very different. It's made us do research on people, the more recent people and we made contact with the descendants of the people who were in Lilydale in the '60s which we hadn't done before, so it's good for us and it's good for them," Ms Thompson said.
"It's good to celebrate rotary and the work they do, as well as Melba and the work that she did."
Flowers were laid on Dame Nellie Melba's grave by Rotary District 9810 governor nominee Ken Millar.
Mr Miller is from the Emerald Rotary Club but will be taking on the role of District Governor in the next year.
As part of his role, he has overseen the organising of the 100 years celebrations within the district.
He said each club has taken on a different way of celebrating but this was the one and only cemetery tour, which he said was a unique and interesting way of remembering past rotary members.
Lilydale Rotary Club president Madalyn Parlett said the rotary club were fortunate to have Dame Nellie Melba's birthday fall within the period of their celebrations.
"The rotary club has celebrated its 50 years so we thought it would be a good idea, if there were rotarians in the cemetery with Dame Nellie Melba, that we might be able to recognise the 100 years where rotary has been working in Australia to serve in the community. So it was a good opportunity to combine them," Ms Parlett said.
Listening to all the stories of past rotarians, Ms Parlett said it made her proud of the work that rotary continues to do.
"It's quite heartening to see the consistency, even though here we are serving in rotary in 2021, 100 years after it started in Australia.
"Listening to those families' stories of people who were involved in not just one or two community events, many of them five, six, seven things that they were all doing and the amount of service, the years of service that they gave to the community.
"It's quite heartening to know that we're still doing the same things that our parents and our grandparents were doing."
The people who joined in the cemetery tours couldn't have asked for a better day.
"Melba would be very proud, she would be pleased that we're celebrating her and she's done the weather for us. She wouldn't have anybody rain on her day," Ms Thompson said.