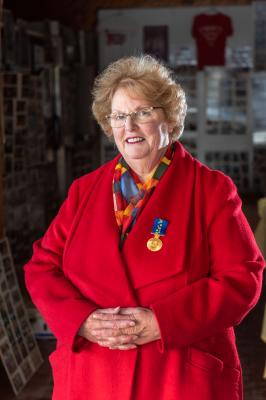 By Mikayla van Loon
A Trailblazer, an Order of Australia Medal recipient and a woman with a big heart, Marion Stott, 70, has been serving her community in Mooroolbark for 37 years but now it's time to pull back.
As one of the founding members of GymbaRoo in 1982, Ms Stott has been helping children develop essential motor skills for all those years.
Working alongside Margaret Sasse, Ms Stott helped create the kindy-gym and toddler-kindy gym to support children with motor development delay and to get children learning in a playful environment.
Soon after, the program would be taken across the country and overseas to Europe and Asia.
"Our little Australian program that came from knowledge, from learning, from viewing the children, from seeing what worked and what didn't work in a group situation and also a lot of input from staff that came from a wide variety of areas and that's how GymbaRoo was born," Ms Stott said.
It wasn't without its challenges, especially when it came to learning how to run a business.
Within the first ten years, Ms Stott was involved in the setting up of many centres around Melbourne before it changed over to a franchise system in 1994.
As a nurse and mother, teaching children and having an interest in child developmental stages was a passion Ms Stott found.
"You do the whole thing for the children, there's no other reason you do it," she said.
"There's a lot of work behind the scenes but it's the children and watching the children develop and catching problems early, getting things sorted out early is our aim so that when they get to school they're on a flat playing field."
But after doing it for the children for 37 years, it's time to hang up the boots.
"It was sort of back in 2016 when I had my first knee replacement and I thought 'ok this is a sign that the body is wearing out' and I had turned 65 and it seems to be the magical number, so it was a thought then," Ms Stott said.
"So my body is telling me, not that the heart is not willing but the body is telling me."
Although not sad about her decision to leave GymbaRoo, it was a big part of her life.
"I know it's not far away, I know I can go online and see anything I want to see, I know I would be welcome to pop in to any centre and say hello to the girls," she said.
"You have to say goodbye, it's like your children leaving home."
With the extra free time up her sleeve, Ms Stott said she wants to start enjoying the finer things in life, like travelling and exploring Australia with her husband.
And even though she is retiring from GymbaRoo, Ms Stott is not giving up on her community involvement.
As president of the Mooroolbark History Group, Ms Stott will still contribute to teaching children about the history of Mooroolbark and organising Anzac and Remembrance Day events.
"That's what I'll be doing I guess. It'll be history, it will be the thing I do next," she said.
"And that's great and that's interesting and I learn something every time I go Googling and researching."
Not recognising her contributions to the community herself, it did come as a bit of a surprise when she was awarded the Order of Australia Medal for her service.
"Initially the whole thing is a bit embarrassing but now I'm taking it very proudly that I'm being recognised for what I have done," Ms Stott said.
Always a curious child who wanted to be a part of everything, Ms Stott joined nearly every club at school including the choir, debating club and theatre group.
And she hasn't changed one bit.
Only now she is involved in the history group, the Victorian Boer War Committee, Compassionate Friends and talks at schools.
"I'm just a very inquisitive person, a very inquisitive child and there is always a question," she said.
"I've been on committees and so forth because I feel I have something to offer, I have something to say.
"I guess I had never really thought of the term 'trailblazer', I suppose I just see a niche that needs to be filled and help out."
But a Yarra Ranges Regional Museum Trailblazer she is, and now officially Marion Stott OAM.
"The accepting of the award and coming to grips with it is that I'm doing it for my family that volunteered and my nanny that ran the op shop in our little town and all the things I saw them do is obviously what I'm doing
"And then it's for anybody who ever thought I had a good idea and anybody who has ever encouraged me and supported me and that is my peers and my friends and my family.
"I have accepted it on their behalf because I wouldn't be here, nobody's here without support"
"I'm very proud."