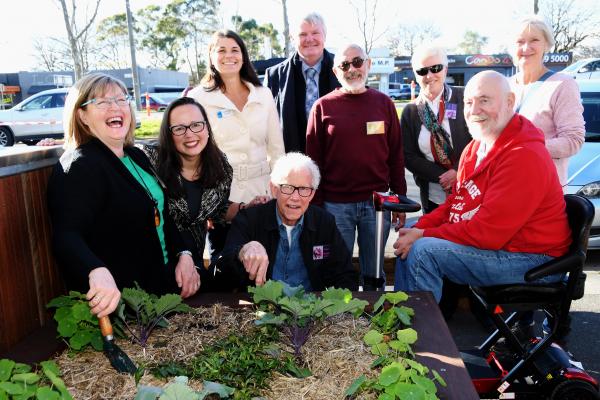 By Mikayla Van Loon
Lilydale officially opened its first community garden on Thursday 1 July, with dozens of people basking in the glorious sunshine outside Bunnings to celebrate the initiative.
Yarra Ranges Council and the Lilydale Community Garden Committee started on this project three years ago to bring a modular community garden to Lilydale.
The project was the first of nine revitalisation projects decided upon by Yarra Ranges Council because of its shovel ready status.
Partially funded by the state government's $2 million Suburban Revitalisation Program, the project received $55,000, with the council contributing $30,000 to make the plan a reality.
Lilydale Community Garden Committee member Benson Bannon said he loved the idea of a community garden because they are like a community village.
"Gardeners are friendly, they're practical, they touch nature, they grow things, they share with each other the produce, they give each other tips on how to grow things, how to cook the stuff and all the community gardens operate that way and it's just lovely," Mr Bannon said.
"So it's like a little, mini village. And it is inclusive, there will be all sorts of ages, there will be families, there will be children, there will be people with different abilities and we'll all just have a common interest in gardening."
Fundamental to the design of the modular garden beds was the use of sustainable, ethical and environmentally sourced materials.
The timber panelling used and a specific watering system were carefully chosen to not only meet an environmental but also social sustainability standard.
Yarra Ranges Council said they were impressed by contractors FFLA Architects and Warrandale Landscapes in understanding the needs of the garden and turning around an intuitive design that met those needs in a relatively short period of time.
Lilydale Revitalisation Board chair and member for Eastern Victoria, Harriet Shing said it was great to see how quickly the gardens have become a part of the community.
"There is already a sense of ownership by the entire community for all of what it is now and what is to come. I can't wait to see green arbors and beautiful new growth and people enjoying this really wonderful open, accessible spot which is just about in the best planting environment," Ms Shing said.
For the Lilydale Community Garden Committee this is a stepping stone to something bigger, with the hopes of acquiring acreage to expand into fruit trees and a larger variety of plants.
"What we're hoping is, in a couple of years there might be acreage for us because we need to put roots down into the ground and look after the soil bacteria and all those things, so we're very excited," Mr Bannon said.
As the urban areas of the Yarra Ranges continue to grow, particularly with the Kinley development expected to increase the population, housing density will also increase.
Mr Bannon said community gardens give people the ability to grow fresh produce and live sustainably, particularly in those high density suburban areas.
"Part of why we started the community garden idea was because we have the green wedge here in the Shire and there can't be development out into the vineyards and the hills," he said.
"So there is a lot of what they call infill, so instead of one house on a quarter of an acre you've got three townhouses or six or seven townhouses and because of overshadowing, people can't actually grow fruit trees and vegetables, so a community garden is a place where they can."
But for now both the Lilydale Community Garden Group and Yarra Ranges Council are hoping the gardens will engage people of all ages, get them talking about healthy eating and sustainability, while offering a community space for social interaction.
The expectation is that school groups will be able to utilise the community garden for educational talks.
With uniquely designed seating and chess sets, the community garden is also a space for people to gather and enjoy the outdoors, while bringing life to a blank area along Main Street.
"It has revitalised us as much as it has revitalised the very bleak wall that was here and we notice people sitting having lunch, having coffee and a chat," Mr Bannon said.
A small membership fee will be charged to use the community gardens but Mr Bannon said he welcomes anyone to come and enjoy the space and watch as fruit and vegetables grow.
The garden committee has already started enjoying the benefits of having somewhere to plant and grow fresh produce.
"Everyone is so excited, they come and do stuff every day, not all of them but just one will come once a day and they get their hands dirty and make sure the plants are there and they replace what's missing," Mr Bannon said.