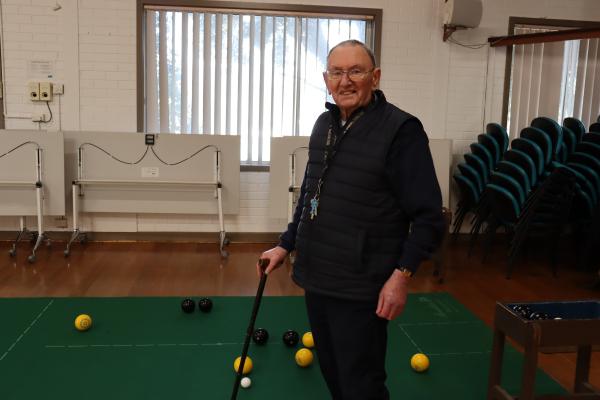 By Mikayla van Loon
The Lilydale Senior Citizens Centre has been a meeting place for Lilydale's retired population for many years, offering a range of activities and social interaction.
Now the facility will be opening up as the new location of Lilydale's first Neighbourhood House, something the senior citizens are more than happy with.
"There's nothing sinister about what the council's doing, we are in agreement. I think it is going to make better use of it for the rate payer," Senior Citizens Centre president Brian Booth said.
"We're quite happy with the arrangement. It's just a change in name as far as I'm concerned."
The senior citizens use the space on a Wednesday and Friday for snooker, carpet bowls and bingo, as well as offering their members afternoon tea and a library of books, puzzles and magazines.
Mr Booth said the council has guaranteed them that they will be able to continue using the hall for their activities.
"We get to keep what we've got because the council wants to keep us going. They're very, very supportive," he said.
"Keeping these places going and group sport and community events, the council is very big into it. A lot of people don't realise just how big the council is."
Wednesdays are dedicated to bingo, which Mr Booth said "it's a bingo where you can't lose", with money paid to play going to the members.
Fridays are for carpet bowls and snooker but recently many of the club's 50 members have shied away from playing due to the pandemic.
With three mats for carpet bowls, up to 24 people can play but Mr Booth said they normally only get eight to 10 people.
"It's been a long time since we've had the third mat out," he said.
"We could do with a few more members."
Whether you've been a member of the club for 20 years or just a few months, Mr Booth said everyone who joins loves learning to play bowls or calling the bingo, it brings them so much joy.
"When we were locked down, I phoned everybody up and the council told me that we could open on New Year's Day, which I think was a Friday, we opened the following Wednesday.
"We would normally be closed for that period and we started on the sixth of January and I'm calling people up and a couple of people live with their daughters and they said to me 'can you wait a minute, tell her yourself' and the happiness when they were told the club was opening was something incredible and we got 25 people and that was in the holiday season.
"I didn't even realise how important it is for people. It gives them a purpose and this is what we've got to have."
Mr Booth joined the senior citizens club 10 years ago and having been diagnosed with MS only three years prior, he was looking for something to keep him active.
"What can I do? Well I thought I could play carpet bowls and I didn't know anything about it, so I joined the club. And then this club was going to close because they couldn't get a president so I took it and I told them 'I know nothing about it but I'll elect a good committee and we'll be ok'," he said.
"There was an election and I saw one old dear get off the bus and in the meeting I sat next to her and she told me her life story. She'd been president of the Probus branch and she joined the club for some company and I thought if this old dear doesn't have a club to go to, she'll sit down and vegetate."
As a tradesman, Mr Booth said he never thought he'd be a president of a club because he'd never been very good with the admin side of things but he does what he can.
"On a Wednesday they all want to play bingo and I don't so I wash the dishes and there's not many presidents that wash the dishes but it's a bit of give and take," he said.
"Keeping the place going, that is the number one thing because it means so much."