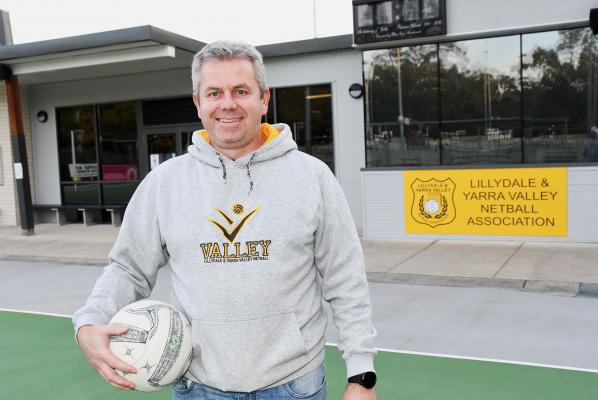 By Mikayla Van Loon
Pinks Reserve in Kilsyth has been the home of the Lilydale and Yarra Valley Netball Association (Valley Netball) since 2015 but the association is now calling on Yarra Ranges Council to provide better facilities for players.
Netball is the largest female played sport in the country, which has traditionally been an outdoor sport where players endure the heat, rain and storms in both winter and spring competitions.
Valley Netball president Simon Grimes said while the facilities at Pinks Reserve are an upgrade on what clubs had previously in Mooroolbark, interruptions to games and training because of weather is still an issue.
"Throughout the year we are constantly having issues with cancellations of games, having to move players into safety if there's major issues," Mr Grimes said.
"Clubs cancel training throughout the year, we have a restricted take up of the night competition because people don't like playing outdoors in the rain so it limits our ability to attract new players to new night competitions."
Currently two of the 12 courts are under cover which was funded by Valley Netball, with an extra four courts due to be covered by the end of the year.
Mr Grimes, on behalf of the association, submitted an application for upgrades to Yarra Ranges Council during the community consultation process of the 2021 council budget.
"We think that everyone deserves an opportunity to play netball undercover and unaffected by the weather which is why we are pushing to get all 12 courts at Pinks Reserve covered," he said.
Valley Netball is one of the largest regional netball associations in Melbourne and the largest
in the Yarra Ranges Shire with over 5,300 annual participants.
It caters for 530 teams and 24 clubs from Lilydale, Mooroolbark, Kilsyth, Croydon, Ringwood, Healesville, Chirnside Park and other suburbs in the valley and outer east.
The Saturday competition attracts over 5,000 people every week and more than 250,000 people visit Pinks Reserve every year.
Providing facilities and amenities for that number of people is also becoming a challenge with a rather small pavilion which is shared between 10 clubs, the association and representative teams, as well as visitors on weekends.
The 270sqm pavilion doesn't provide storage for the clubs, has no social space, club rooms or indoor seating area for the canteen.
Compared to other regional netball associations in Maroondah and Knox which don't have as many players, Valley Netball is at least $7 million underfunded.
By the end of the year Pinks Reserve's netball facilities will total $8 million from State and Council funding.
"Netballers in the Yarra Ranges deserve a facility that all other councils provide," Mr Grimes said.
The underfunding can also be compared to football and cricket pavilions which have received an average of $8,496 per participant, while Pinks Reserve's netball facilities have been funded at only $1,579 per participant.
"I think for a long long time netball has been quietly happy to make do with what they get and there is a level of misogynism in the history of football being front and centre and netball being a female sport, getting pushed towards the back.
"I think that is less now with the push for a lot of female facilities but even then, at the moment there's a lot of funding for female facilities but all that funding is going to football pavilions, it's not coming to us.
"We've applied and tried to get the council to assist us through the female funding regimes and at this stage all the money has gone to football pavilions to provide extra facilities for female football teams, which is great but let's not forget the number one female sport in the country which is netball."
Mr Grimes said the Valley Netball association will continue to make noise and canvass support from local, state and federal government for funding from programs like the local sports infrastructure fund and the female friendly facility fund.
"It's just a reminder that while new football pavilions are great and spending $5 million on a football pavilion is a great idea, that supports about 500 people, we have 5000 and we're asking for similar or not even the same, somewhere close to the amount of money spent on football pavilions," Mr Grimes said.
"We're only asking that every netballer should, in our eyes, receive the same dollar as every footballer."