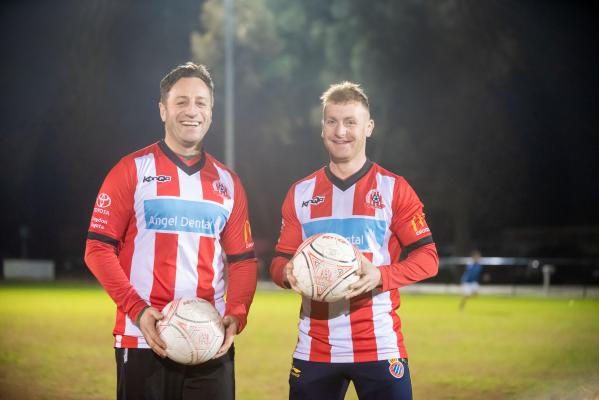 By Peter Stephenson
Saturday was beautifully sunny at Esther Park to welcome Collingwood's first visit for 44 years. This was the Barker men's first home game for seven weeks.
They were bottom with only two wins all season, while City were second, beaten only once, way back in round two.
What City didn't know, probably because they play us so rarely, is that Barkers have a funny habit of upsetting the top teams just when you least expect it…
And so it was with just three and a half minutes on the clock, Liam Seaye hit a free-kick into the box, and Ross Clark flicked the ball over Felipe Mercado Martinez in the City goal to give Barkers an early lead.
This stung City into action and, on six minutes, a City free-kick was cleared, and a low shot came back in and fizzed past Mark Naumowicz's post.
Barkers were looking up for the battle and, on 22 minutes, Maxim Solovyev went on a run and laid the ball off for Dan Burrows, whose shot hit the outside of the near post.
Two minutes later, Solovyev was through on goal, but a defender did enough to put him off and his shot went over.
On the half hour, Burrows turned provider, putting Solovyev through, who shot wide. City swiftly broke back with Patrick Makris shooting over.
Five minutes later, a seemingly innocuous dive from Martinez resulted in him injuring his shoulder, but he was able to continue. Half-time 1-0 to Barkers, with the home side value for the lead, and the City defence looking surprisingly shaky.
Four minutes into the second half and a free-kick from Seaye saw Brett Tronconi head wide. Then City came close to levelling the scores when a shot from Matt Richardson saw Naumowicz stretch and get his fingers to the ball. Barkers replied with a shot from Matt Bell which went narrowly over.
Just before the hour mark, Seaye hit a corner from the left which was cleared out to Bell. He kept the ball down well but hit it wide.
The last half hour seemed to be one-way traffic as City desperately sought an equaliser – could Barkers hold out?
On the hour, the visitors' Luca Tedde crossed from the right, finding Peter Seehusen at the edge of the box. His shot produced an agile save from Naumowicz as he dived low to push the ball wide.
On 73 minutes a City free-kick over the top was cleared out to the left flank, but the forward shot wide.
Try as they might, City couldn't break down the determined Barkers defence, and their misery was compounded with a red card in stoppage time.
This would rank as Barkers' best result for some time and was built on good old-fashioned determination.
More of this fighting spirit will serve them well in the battles to come to drag themselves up the table – next week it's a trip to fourth-placed Skye, with whom we drew at the kennel.
Earlier, the men's reserves fought out a mid-table draw. They fell behind in the first half, but replied two minutes after the break when a free-kick from Ben Sharland was headed home by Liam Killen.
Final score 1-1, and Barkers rise to sixth. Next Saturday, they visit fourth-placed Skye United.