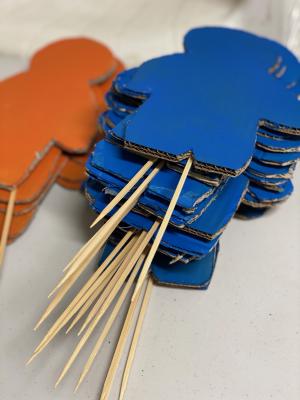 By Mikayla van Loon
Holy Fools is on a mission to improve people's awareness around the ever increasing issue of homelessness during this year's Homelessness Week.
In a visual demonstration, Holy Fools founder and CEO Neal Taylor will be placing 1160 little cardboard cutout people at Box Hill TAFE, each painted a different colour to represent the different types of homelessness.
Nationally each night there are 116,000 people who are experiencing homelessness and even though this visual display will be just one per cent of that, Mr Taylor said he hopes it makes people aware of the situation.
"We wanted to come up with an idea that would have impact if you looked at it and would allow you to understand a bit more about the situation of homelessness in Australia," he said.
"We want to shock people into realising how many people were homeless overnight and realise that this is just one per cent nationally of how many people haven't got a home overnight.
"Ideally I would have done more obviously but it's a big job just doing 1160. It's just a visual way of demonstrating the severity of the situation."
The idea was started two years ago when Mr Taylor asked for help from the community to cut out the little people but due to bad weather the display had to be postponed.
"So we had I don't know how many members in the community cutting cardboard figurines out a few years ago and they've just been sitting, waiting for the day to come out. So the community has been involved since day one."
Homelessness Week is held in the first week of August each year, raising awareness around what homelessness looks like and the challenges people face.
This year's theme is 'everybody needs a home'.
In the Yarra Ranges alone it is estimated that there are 450 people experiencing homelessness right now and of that number, 50 are rough sleepers.
But that still leaves 400 people couch surfing, living in boarding houses, supportive accommodation or in severely overcrowded accommodation.
And that represents the situation across Australia.
By colour-coding the different ways someone can be homeless, Mr Taylor said he hopes this display changes the way people view homelessness and starts conversations about what it means to be without a home in the Yarra Ranges and in the country.
"I think it's going to be an amazing visual piece to look at, once it's done it should be quite an amazing thing to see and it should hopefully drive the point home that this is one per cent and nationally we need to be doing something about this as well. I hope that this starts conversations and people wanting to know more about it."
The display won't be the only thing happening during Homelessness Week, Holy Fools along with other key organisations in the Yarra Ranges will be hosting a launch event and expo on Monday 2 August.
Mr Taylor will speak, as well as someone from Anchor, Yarra Ranges Housing Action Group and a guest speaker from the Council of Homeless Persons.
Nightly fireside chats will also be happening at Branded Burgers in Seville, where people can enjoy a hot cup of coffee, listen to speakers talk about issues relating to homelessness and engage in conversation.
Help is also needed to paint the 1160 little people for the demonstration. Head to the Holy Fools Facebook page for more information.