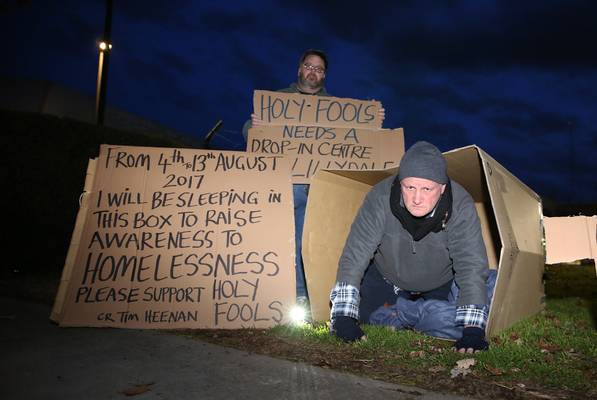 By Mikayla van Loon
Usually around this time of year, Yarra Ranges councillor Tim Heenan would be preparing for his week-long sleep out in the cold to raise awareness around homelessness.
But with the risk of the current Covid-19 situation being high and after having a spate of ill health, Cr Heenan won't be sleeping out under the stars this year.
Every year since 2008, bar one or two, Cr Heenan has slept in a cardboard box in Melba Park in Lilydale for seven days straight during Homelessness Week to embody the experience of someone who is homeless and raise awareness around the ever increasing issue.
"After sleeping in a cardboard box for ten years, I tell you in the last few years it has been terrible, minus two degrees. I put the plastic over the cardboard, I've learnt to cover the box in with a mattress bag but it's just hard yakka to do it," he said.
Having experienced some of the coldest nights in winter and understanding how someone who is sleeping rough may feel day in and day out, Cr Heenan said has given him great respect for people who are homeless.
"When you hear the stories and you see the people that have gone through that, it gives you a greater respect and understanding of what you've got to go through when you haven't got a roof over your head," Cr Heenan said.
"It's because of my respect for people that haven't got that thing in their life where they've got a roof over their head and have lost their way [that I do this]."
"It's going to happen more and more in Australia, now particularly with women and women with children sleeping in cars, we have to recognise that as a society and I've been saying for the last couple of years, we can't just palm it off."
"Neal and I have been aware since 2013, 2014 that many more women were sleeping in cars."
From previous Census data, it is known that 87 per cent of women were becoming homeless because of domestic violence and 17 per cent of homeless children, under the age of 10, were sleeping in cars.
Having experienced financial struggles himself as a teenager, Cr Heenan knows how sometimes it can be the simplest things that send someone into homelessness, whether that be divorce, health issues, rent costs or mortgages.
"I have enormous respect for anyone who has to rent, I'm well aware now that rental properties just don't exist anymore for people who are on welfare, it's about 0.05 per cent."
Worried now about the effect Covid-19 will have on people, Cr Heenan said there will be a percentage of people who have lost their jobs in the last year and will be now sleeping in their cars.
In recent years it has become more prevalent that rough sleepers are making their way out into the Yarra Ranges, particularly in Lilydale and just like what is seen along Lygon Street, people are sleeping under shop fronts.
"There was one night there about a year ago, Neal [Holy Fools CEO] and I knew that there were three people in Lilydale sleeping under the shop fronts."
There could be anywhere up to 700 people who are currently homeless in the Yarra Ranges, even though many of them cannot be seen, whether that be because they are sleeping in tents in bushland or couch surfing or living in boarding houses.
"When you get to know how a homeless person thinks and where they go and I know Mt Evelyn and Lilydale like the back of my hand, you know where they'll always be and where they move to because for a large part they don't want to be seen but they are there."
Cr Heenan said even though he is not taking part in the sleepout this year, he didn't want that to draw attention away from the cause and wants to encourage people to get involved in National Homelessness Week.
There are planned events across the Yarra Ranges, from fireside chats in Seville to a launch event in Lilydale run by Holy Fools which Cr Heenan is hoping to attend.