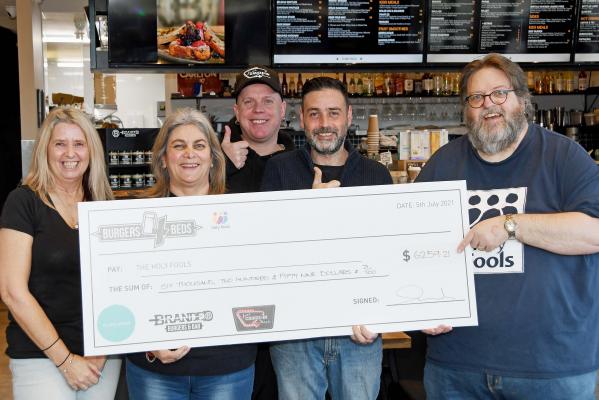 By Jed Lanyon
Three Yarra Valley restaurants teamed up to help those sleeping rough this winter with a special burger campaign.
Across the month of June, Seville's Branded Burgers and Bar, Kilsyth's Just Cruize-In Diner and Healesville's My Little Kitchen teamed up to raise funds to purchase backpack beds for those in need across the region.
The Burgers 4 Beds campaign saw each venue create a specialty burger, where proceeds from each meal would go towards Holy Fools. Each of the business owners came together on Thursday 15 July to present a cheque to Holy Fools founder and CEO, Neal Taylor.
Branded Burgers co-owner Gina Braidner said the month-long campaign saw over $6200 raised, enough to purchase an estimated 60 backpack beds.
"It's amazing. It still only feels like a small contribution, but we're proud that it went really well," Ms Braidner said.
She said she loved the fact that several businesses could work together to achieve a goal.
"Many hands make light work and if we could all contribute something, then the load's not just on one person."
Mr Taylor explained the usefulness of the backpack bed and said that they would be shared amongst other support organisations.
"The backpack beds are designed for homeless folks to use while they are rough sleeping," he said. "It's a single swag for one person. The difference between this and most swags is that it is able to be compacted into a very small bag that can fit on someone's back.
"It also has room in it for clothing and for keys and a phone… It's waterproof, it's fireproof and has good airflow. In the summer, if you want to escape the mosquitos, you can do that quite comfortably. In the winter it's a lot better than sleeping on pieces of cardboard.
Mr Taylor provided an update on the current challenges faced by those who are experiencing homelessness.
"We're seeing a dramatic increase in rough sleepers. I guess for me, we've seen a lot more people sleeping in the doorways of places. In Lilydale we've had a couple of guys who have been sleeping in the doorways of businesses. Things are getting worse.
"The real problem is that there is nowhere to go, there's no affordable accommodation. Yarra Ranges has got no crisis accommodation and rentals are becoming difficult to afford. We're kind of in between a rock and a hard place at the moment and I think it's going to get worse before it gets better.
"Things like these backpack beds will go a long way for people, who unfortunately do have to stay rough sleeping for a while. And there are some people who opt to do that rough sleeping as opposed to going to a boarding house, because sometimes a boarding house can have a rough situation with drugs, alcohol and even violence in some of those situations."
My Little Kitchen owner and chef, Ben Taylor, said it was a "pretty awesome feeling" seeing the success of the Burgers 4 Beds campaign.
"I didn't expect to feel this emotional about it, but you can see now the effect that it's going to have on so many people's lives.
"There are some huge issues that personally, we didn't think we could have much of an impact on, so what I've learned working with these guys is that three small businesses working together can make an impact."
Just Cruize-In Diner owner Paul Barlato said the restaurant owners planned to run the campaign again next year.
"It's such a good cause, we're talking about, hopefully next year, getting a few more businesses involved. Make it a bit bigger, getting more people involved and hopefully raising double that amount.
"We just wanted to help people out and that's what this is all about."