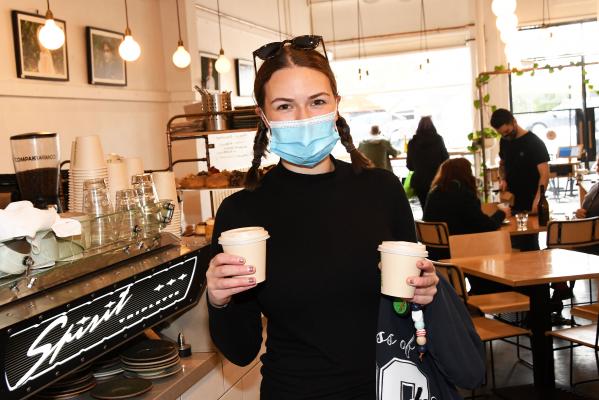 By Mikayla van Loon
Cafes were overcome with a sense of relief as lockdown restrictions were lifted for the fifth time in Victoria during the week.
The news of a 'lighter lockdown' situation on Tuesday 27 July was welcome respite to the tough lockdown restrictions that had been placed on Victoria two weeks prior.
Although restrictions still apply throughout the state, the 5km travel limit being removed and hospitality reopening meant cafes in Lilydale could welcome people back and return to some sort of normal once again.
Bean Seen Cafe part owner Jason Seach said during the lockdown, business fell by 50 per cent and even though that was manageable, it was not ideal.
"We went alright but it was just the 5km radius that knocks my business around because my demographic of people are tradies and no schools as well, it's a bit hard not getting the mum's groups coming in," he said.
"You've just got to cut back on staff so you start feeling sorry for your staff because cafes run a lot on casual staff so you just cut all their shifts right back and everyone takes a knock for a couple of weeks until we get back up and going but it is a relief that we are back up and going again."
Not having Jobkeeper as an option meant Mr Seach had to reduce his staff's hours, putting financial strain on them.
But it wasn't only staff that appeared to be losing out with Mr Seach saying he noticed a decline in people coming out to support local businesses and cafes which he suggested was due to the lack of financial support.
"It was a lot harder, there weren't as many people around and I think everyone who is off work, they don't have the money to spend whereas in previous times when there was Jobkeeper people were still getting paid so there was still a bit of money in the community," Mr Seach said.
"Everyone cuts back and the first thing to go is their coffee and all that sort of stuff, the little luxuries of life."
Similarly, Round Bird Can't Fly cafe manager David Johnson said this lockdown was much harder for people to bounce back from.
"It was slow. Everyone's a bit bored and fed up with it, especially with the 5km thing, there's just not that much business coming in but we survived," Mr Johnson said.
"This one hit everyone a bit harder and it was getting a bit more exhausting jumping back into lockdown and going back into all this stuff.
"This one and the last one happened so quickly as well, one day you've got cases, the next day you've got a few more and then after that, lockdown tonight, it all happens really suddenly."
Both cafes are able to operate at normal capacity because they fall under the inside density limit of 50 people but Mr Seach said larger venues may feel the pinch of being able to only have one person per four square metres.
Mr Seach and Mr Johnson said they spent much of Tuesday 27 July preparing to reopen on Wednesday 28 July and had already started to receive bookings, which was a positive sign in the community also feeling relieved to be out of lockdown.