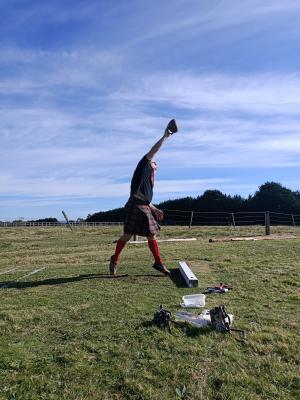 By Mikayla van Loon
For more than half a century the Ringwood Highland Games has brought a celebration of Scottish and Celtic culture to the eastern suburbs of Melbourne.
Thousands of Melburnians, young and old, have been entertained during the Melbourne autumns since 1965.
Now as the only metropolitan Highland games left in Victoria, the Ringwood Highland Games has rebranded as the Melbourne Highland Games & Celtic Festival.
"Where the change of name really got driven from is, as a result of Covid we put on the first virtual highland games in the world. We ended up running two because our [normal] games couldn't go ahead and we sort of felt for the community that they were doing it hard," Melbourne Highland Games secretary Alistair McInnes said.
"A lot of our community are migrants and people from a Celtic background and people from Scotland, Ireland, Canada, America were all tuning in and they were saying to us 'where is Ringwood?'"
Having not held the games since March 2019, they are planned to go ahead on 3 October at Eastfield Park in Croydon, making it the 56th year since first staging the event in the eastern suburbs.
"If we go ahead in October, we will be the first Highland games in Victoria to have gone ahead in nearly two years," Mr McInnes said.
"We are really looking forward to putting on a spectacular event for our Victorian community that has been so strong but doing it hard during the pandemic."
Close to 80 per cent of people who attend the games come from outside the Maroondah Council area, drawing people mainly from the Yarra Ranges and Yarra Valley, Box Hill and Blackburn.
As the only Celtic festival of its kind in the area, anywhere up to 3000 people usually attend the event and after hosting the virtual games, Mr McInnes is hopeful this year may draw a younger crowd, as well as more women.
"One of the things that is a bit groundbreaking and we were going to have it last year but it got called off, we're actually going to have women competing in what we call the heavy games."
"We've actually spent a couple of years developing these young women to give them the opportunity to practice with the equipment because you can't just walk into the local athletics club and say 'can I use the caber please' because they won't have one."
Traditionally, the heavy games started as a competition between men vowing to protect the local Lord in the shires of Scotland, which has since morphed into showcasing athletic prowess.
As time has gone on, the traditions of Highland and Celtic populations have slowly become harder to keep alive, with an aging demography and a lack of ideal event space.
"A lot of the highland games blossomed from the immigration from the United Kingdom and that was sort of in the '50s and '60s and a lot of the people that started them and were running them, they have moved on or died."
But with one in five people in the eastern suburbs, particularly areas like Croydon and Lilydale, having Celtic heritage, Mr McInnes said it makes sense to keep the traditions going.
"That's why we think it is important that we still celebrate it because a lot of people have got that connection," he said.
Experience the wonders of pipe bands, traditional dancing, Scottish and Celtic delicacies and traders selling Celtic jewellery and clothing for the first time or for the 56th time.