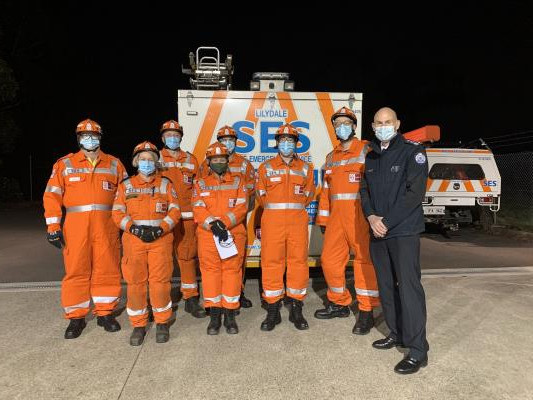 By Mikayla van Loon
Since the major storm event in June, which saw Lilydale SES respond to more jobs in one week than they had done in all of 2020, it has been business as usual for the unit's members.
But a rather spontaneous visit from Emergency Management Commissioner Andrew Crisp on Monday 2 August was a way of recognising the crew's efforts during the unprecedented event.
This was Mr Crisp's first visit to the unit and due to lockdowns and restrictions, he hadn't been able to make it out to Lilydale since June.
Lilydale SES unit controller Shaun Caulfield said Mr Crisp was able to speak to members who had been part of the SES for a number of years and also to five new members who had their first training session that night.
"He spent time chatting with a lot of members and listening to their stories from that storm event, and also what brought them to SES to volunteer and asked what they get out of volunteering and thanking them for what they do," Mr Caulfield said.
Observing 35 of the unit's members, undertaking three different training streams, Mr Crisp was able to see first hand what Lilydale SES is capable of doing.
Taking the time to hear people's experiences, Mr Crisp discussed with members what went well and what didn't during the storm event, starting the unofficial process of debriefing that will occur in coming months.
"To have him come out and speak to our members was a really nice gesture for them after the significant effort they put in over the storm event," Mr Caulfield said.
"It was a nice piece of recognition for the work the unit did in that event but not just in that event, for the work that we do everyday. It's a nice acknowledgement of the role that we play in the emergency sector."