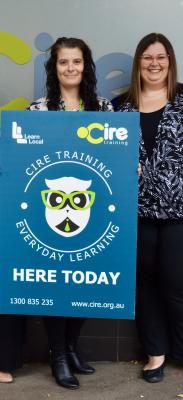 Cire Training has demonstrated its excellence in the adult learning space after being named one of three finalists across the state in the 2021 Victorian Community Training Provider of the Year Awards.
The achievement highlights Cire Training's leading reputation for excellence as a registered training organisation (RTO) and its innovative and inclusive programs designed to enhance the employment pathways of people throughout the Yarra Ranges and beyond.
The 2021 awards focus on service delivery in the previous calendar year so particularly acknowledge how Cire successfully pivoted to support its learners in the new Covid environment, transitioning from face-to-face learning to online delivery almost overnight.
The online platform continues to keep learners engaged and connected virtually when necessary due to lockdowns and restrictions.
Cire's CEO Gus Seremetis commended the Cire Training team for its continued excellence in service delivery, innovative approaches and ability to rise to unprecedented challenges in order to support and empower all learners.
"Last year was particularly significant because it highlighted Training's tireless work and level of expertise in supporting learners and providing a level of stability during very uncertain times," she said.
"We are proud of our quality and innovative approaches to upskilling people to enhance their employment pathways, and the positive difference this makes at so many levels and well beyond the classroom."
Cire Training was named the Victorian Community Training Provider of the Year in 2019 and was a finalist last year.
The awards are the most prestigious event on the Victorian Department of Education and Training's TAFE and training calendar, showcasing the 'best of the best' in the sector as well as highlighting how Vocational Education and Training (VET) makes a powerful and enduring difference to individuals and communities.
The RTO is one of the core operations of Cire Services, one of the largest not for profits in the Yarra Ranges and uniquely 'local'.
The other core operations are Cire Community School for at-risk youth, Cire Children's Services and Cire Community Hubs.
Cire Training's senior manager, Nina Bekker described the short listing as a wonderful acknowledgement of the extra hours, hard work and support that teachers, trainers and support staff offered local learners in 2020.
"Fingers, toes and everything crossed for October 16 when winners will be announced!"
The other finalists for the Victorian Community Training Provider of the Year Award are Wellsprings for Women and the Williamstown Community and Education Centre.