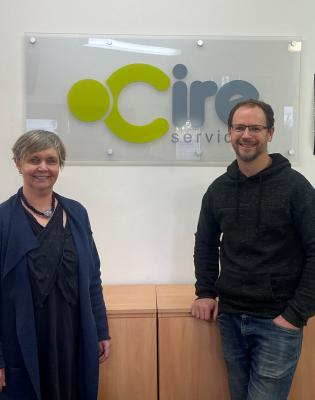 By Mikayla van Loon
Any student trying to complete school at home would be struggling to find motivation and remain engaged.
But for students who were already struggling with this before lockdowns became a part of life, it has only made it harder to stay positive.
The Cire Community School, which has three campuses across Mount Evelyn, Yarra Junction and Berwick, provides a hands-on learning experience for young people who are at risk of disengaging at school.
Mount Evelyn campus principal Stephen Duke said this disengagement could present in a number of ways and be related to education, employment or social connectedness.
Mr Duke said some of this comes from financial difficulties, trauma or a lack of social connectedness.
Of the 226 students that attend Cire Community School some but not all would have experienced some kind of trauma in their lifetime, from family violence to neglect.
"So that's developmental trauma which is trauma that hasn't happened recently but trauma that has occurred in those early years of development, which is incredibly important for the way a young person sees themselves and their narrative," Mr Duke said.
Mental health is also a huge barrier for students trying to learn, which can be exacerbated by the potential use of drugs or other substances, which Mr Duke said is just a cover for what is really going on underneath.
"It's a behaviour that young people can start to do to try to cope with the pain and suffering they've been part of," he said.
For these students it has been hard enough going through each of their own battles with learning, let alone adding a global pandemic into the mix as well.
The school's executive manager for education Peri Dix said teachers have pulled together some great online learning resources but the challenge has been engaging students.
"Getting them engaged and getting them online, making sure that we, hopefully come into contact with each of them every day, whether it's via online classrooms or those students that don't come online, we phone, to make sure we're touching base with them, just to make sure they're all right, that's been a real difficulty," Ms Dix said.
Mr Duke said for these students it's not even just about keeping them motivated to learn but about making sure their social skills remain intact, which can be tough when students are isolated at home for a number of weeks.
"The social emotional well being of the students, their mental health, these are young people and young people all crave that social interaction with their peers," Ms Dix said.
"But I think our students require that even more so, to keep that even keel, to know that they're there with a group of people who support them and who have positive regard for them and losing that can be really tough for some of the kids."
Without social connectedness, mental health and wellbeing is a huge concern for these young people and young people all over.
"Ultimately, you know we're talking about making sure young people stay alive. We are driven by the academics to keep them moving forward and having a sense of purpose but really we're also driven by making sure these kids are safe and well," Mr Duke said.
Having witnessed the return to on-campus learning a number of times now, Mr Duke and Ms Dix said initially students are quite excited to be back but the following few days the reality of school hits them.
"Those next few days were quite hard with them trying to then work out their social setting, where they sit in the pecking order, how do I connect and work through problems and conflict," Mr Duke said.
"Sometimes we've got kids that are coming in from where conflict hasn't been great in the home over that period of time and the way that they treated each other hasn't been respectful, and then they come in here, an environment we're trying to keep super safe and super respectful."
While motivation to keep learning and keep moving forward in studies is low at the moment, Mr Duke said the fear of finishing school and not having anywhere to go is quite real for Year 12 students.
"I feel like people are less ready. I was talking to a few people the other day that have fear about finishing here and part of the lockdown is also them feeling that way about themselves and lack of self confidence."
Cire Community School currently has places available at the Yarra Junction campus for Year 5 and 6, with enrollments open for all campuses for 2022.
For students struggling with engagement, Mr Duke suggested contacting the Integrated Youth Health Hub for mental health and wellbeing support.