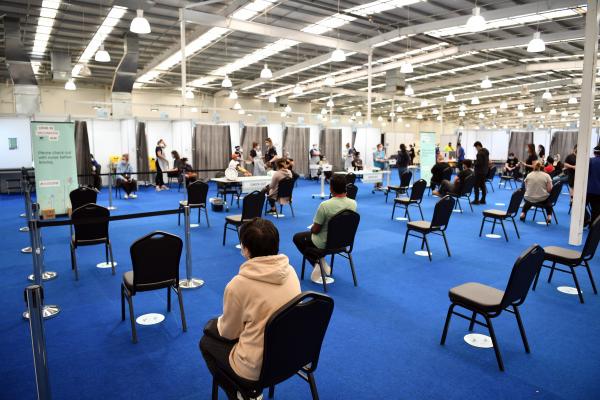 By Mikayla van Loon
Covid-19 cases in the Yarra Ranges have spiked over the last week, with the shire recording a further 10 active cases in five days.
This brings the total number of cases to 20 as at Monday 13 September, with four cases announced in the 24 hours prior.
These cases were recorded in the postcodes of 3138 and 3766, being the Mooroolbark area and Kalorama area respectively, with Healesville also recording its first case over the weekend.
The Yarra Ranges is on par with the council area of Knox but has the highest number of active cases compared to other surrounding councils including Maroondah, Cardinia, Monash, Whitehorse, Murrindindi, Nillumbik and Manningham.
According to the most recent Australian Department of Health local government vaccine rollout data released on 5 September, the Yarra Ranges also has lower than average vaccine rates when compared to local councils with similar population sizes.
Currently, of the 129,169 population aged 15 and over, 59.6 per cent have received their first dose and 36.2 per cent have received their second dose.
Knox Council has a population of 135,647, with 61.7 per cent having received a first dose and 38.1 per cent receiving a second dose.
Of Whitehorse Council's 149,611 eligible population, 63.1 per cent have had their first vaccine and 40.7 per cent have been fully vaccinated.
As announced on Sunday 12 September by Premier Daniel Andrews, a number of Yarra Ranges locations will be included in the 100 pop-up vaccination centres coming to the suburbs most in need of vaccines.
"We are tailoring our vaccination rollout to remove any barriers that might otherwise stop someone from getting vaccinated. There are a million reasons to get vaccinated and vaccination is our only way out of this pandemic," Premier Andrews said.
Yarra Ranges Council mayor Fiona McAllister, along with her fellow councillors, has been actively requesting the extension of vaccination facilities in the shire and was pleased to hear the Yarra Ranges had been included.
Pop-up clinics will be located in the postcodes 3799, 3139, 3770, 3777, 3138, 3781, 3796, 3137, 3140, 3765, 3775 and 3116 in coming weeks, with more details to be released in the DHHS website.
The first of these clinics will be located in Yarra Junction, with Eastern Access Community Health (EACH) setting up a facility to welcome 200 walk-ins a day from Monday 13 September until Wednesday 15 September between the hours of 10am and 3.30pm.
Mayor McAllister said this was welcome news for the Upper Yarra area and hopes this will help get people vaccinated quicker so that the state can be released from current restrictions.
"While this is welcome news for our Upper Yarra communities, there are still many communities across the Yarra Valley, and potentially residents in Murrindindi Shire, who do not have access to vaccination clinics close by," she said.
"The council has written to the Victorian Minister for Health, The Hon. Martin Foley, requesting resources to enable EACH to establish an additional Covid-19 vaccination service at Coldstream Community Hall.
"A new 10 booth vaccination at Coldstream would enhance access to vaccinations for communities across the Yarra Valley, and potentially also for residents of Murrindindi Shire.
"These areas are popular tourist destinations that connect directly to regional Victoria. Achieving high vaccination rates in these communities will be essential as restrictions ease in parts of the state."
Mayor McAllister also said by establishing another vaccination centre in Coldstream, it would help close the vaccine gap between council areas and within the shire itself.
The council's analysis of the Australian Immunisation Register indicated that vaccination rates in the Yarra Valley – which includes regional townships such as Healesville and Yarra Junction – were lower than the municipality overall.
"We have estimated with confidence that 49 per cent of those aged over 16 in the Yarra Valley had received a first dose and 30 per cent a second, compared to 53.6 per cent and 31.8 per cent respectively in the broader municipality."