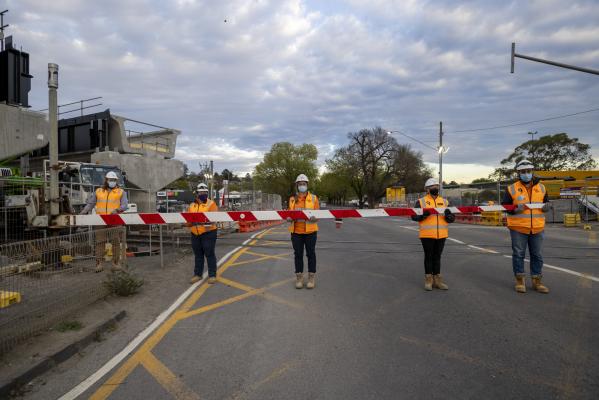 By Mikayla van Loon
The boom gates at both the Maroondah Highway and Manchester Road level crossing have been taken away symbolising the end of traffic congestion on these roads.
Over the next 45 days, hundreds of people will carry out work around the clock to complete rail bridges and build new stations at Lilydale and Mooroolbark.
It does mean, however, major disruptions will be happening in both towns while works are underway.
Road closures during this time include a 28 day closure of Maroondah Highway and John Street at the level crossing, as well as a 13 day closure of Manchester Road in October.
Maroondah Highway is closed in both directions near Lilydale train station until mid-October as the level crossing is removed. Local residents and commuters are advised to use Cave Hill and Beresford roads and Gardiner and Anderson streets as a local detour.
Brice Avenue Mooroolbark is also now closed east-bound between Manchester Road and George Street until Monday 25 October.
Buses are replacing trains between Ringwood and Lilydale for six weeks until Sunday 24 October.
Around 36 structural bridge beams will be lifted during this time, each weighing 120 tonnes and measuring in at up to 31 metres long.
Crews will also build the two new stations, complete the retaining walls and install new track, ballast and signalling.
Work is continuing on Major Transport Infrastructure Authority (MTIA) projects deemed critical by the Chief Health Officer, including the level crossing removals at Manchester Road and Maroondah Highway. There are strict protocols in place to reduce the spread and minimise the risk of coronavirus.