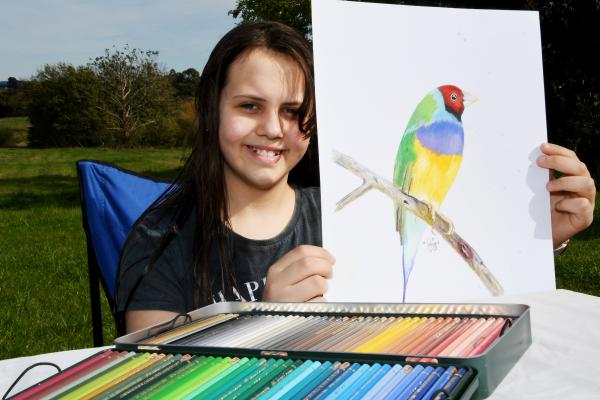 By Renee Wood
Coldstream resident Kiera Dell has shared her artwork on a national stage, competing in the Wild At Art Threatened Species Art Competition for Kids.
The ten year old ranked highly in the competition making the top 100 out of a 3000 applicants.
The Australian Conservation Foundation runs the annual Australian wide competition aimed at raising the profile of our nation's threatened animals.
Kiera's mum Linda Bester said her daughter was thrilled with the result and wanted to be part of the initiative because she's concerned the country will lose more species during her lifetime.
"Both her and her little brother Heath care very deeply about native plants and animals. They often sit on the balcony at home with their binoculars recording the animals that they can see," Ms Bester said.
The avid drawer spends most of her time watching Ms Bester who's an ecologist and wildlife illustrator.
"Kiera chose the Gouldian Finch because it's a threatened species and because of its beauty and intense colours. It's the first time she's attempted a detailed artwork using her mum's professional grade coloured pencils and art paper."
And the young artist's creative work doesn't stop there as she looks forward to participating in next year's competition and building on her skills in the mean time.
Ms Bester helped Kiera set up a social media account to share her work and inspire others on instragram.
"She's keen to share her art with others and raise awareness about Australia's biodiversity through @kdell_creations."