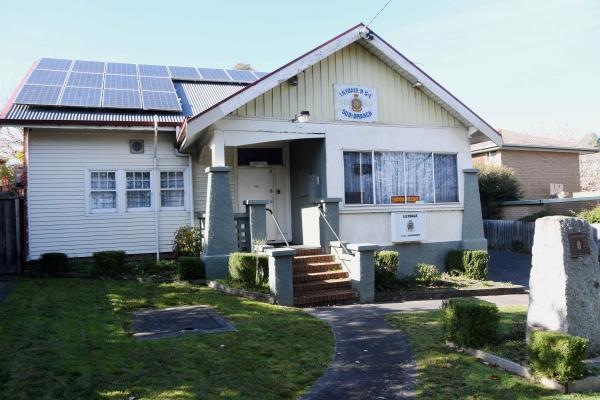 By Mikayla van Loon
For 100 years the Lilydale RSL has been helping veterans find their feet after coming home from war.
Lilydale's branch of the RSL movement was built by local men, heroes in their own right.
Charley Reakes, a stretcher bearer from World War I who won a military medal for being injured numerous times while saving lives, built the house, in which the RSL currently operates from, in 1921.
Ralph Goode, also a stretcher bearer in Gallipoli, started Lilydale RSL from a meeting at his home.
The RSL has always been a support service for returned veterans and Lilydale RSL president Bill Dobson said it is important to honour that legacy.
"The underlying philosophy of the RSL is mateship and that is as true today as it was 100 years ago," Mr Dobson said.
"In those days there were no formal government welfare services for veterans and the RSL formed as an organised group to commit itself to the injured, sick and needy to provide help for those that served their country and this included their dependents."
But after years of helping others, now it's Lilydale RSL's turn to ask for a little bit of help.
"Over the 100 years it has been a bumpy ride for the RSL, there were times when it's future was very dubious, but that's the past. The present executives are very professional and competent, the financials are looking sound, bearing in mind this is spent on welfare," Mr Dobson said.
Hoping to revitalise the function and presence the RSL has in Lilydale, Mr Dobson, Chris Templar and vice president Terry Hickey have three ideas to better establish the RSL as a key feature in town.
The first being to involve the Lilydale RSL in the teaching of local history at schools in the region.
Many of the RSL's members have a rich history from their involvement in wars past.
"Bill Scurry, a former president of Lilydale RSL, received world wide acclaim for inventing the self firing drip rifles which were used to continuously fire as the troops were evacuating Gallipoli. This inventive Silvan farmer saved many lives," Mr Dobson said.
It is expected that Mr Scurry saved at least 600 lives that day.
Another notable figure in Lilydale's war history is George Ingram, a Seville primary school student, who won a Victoria Cross in World War I and was the first life member of Lilydale RSL.
Seven schools have already registered their interest in the program, which will start next year and will require the RSL to install a multi media display and large projector in a designated room at the RSL.
Adding to the improvements inside, the committee would like to renovate the 1920s Californian bungalow and repair the facade.
"As you can imagine after 100 years there are things that must be done. As a registered not for profit charity, money has always been tight. Our emphasis has been and will always be to use funds on welfare issues.
"Recently we have had a donor who specifically asked that we spend his donation to improve the facade of our building. This donation is to start the process, more funds will be needed but the projects will go ahead."
Once repairs are completed, the RSL wants to open up the space to other community groups to use for meetings and events.
The final task at hand is to build a younger veteran base, so the legacy of the Lilydale RSL can be carried on and can continue to support returning Afghanistan veterans.
Mr Dobson and the rest of the RSL's committee is asking for any assistance possible, whether it be monetary, passing along the name of a returned veteran or offering physical labour to get repairs done on the building.
"It is very important to everyone to keep the RSL and the memory of local families alive, the community expects it."