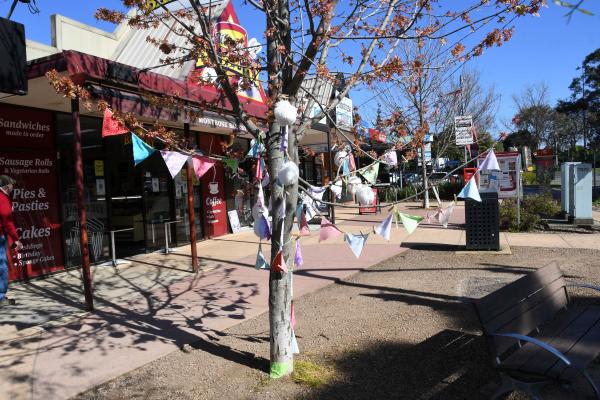 By Mikayla van Loon
Something that started as a way of handing out fabric masks at the beginning of Covid-19 restrictions in March last year, has now turned into a community initiative known as the 'giving tree'.
Montrose resident and township group committee member Eddie Tichelaar said fellow townsperson Fiona Naisbitt, who is a talented sewer, made over 800 masks which were hung on the tree, free for people to take.
"We initially set it up as giving the masks away and then one thing led to the next led to the next led to the next and also because most people go to the post office or the bakery or grab a coffee, it's the central point," Mr Tichelaar said.
Located outside the Montrose Post Office on Mt Dandenong Tourist Road, the tree has become a part of the community and townspeople have taken it upon themselves to leave things for others.
Throughout last year, bags of herbs and sunflower seeds from people's gardens appeared on the tree, which Mr Tichelaar said brought smiles to people's faces during a really tough time.
But this year the tree became much more than a place to leave items.
"Fast forward to June of this year, we had the storms here in Kalorama and around Montrose," Mr Tichelaar said.
"A lady by the name of Lan, she ended up getting cuttings from an old blue gum tree, so the leaf branches and she made floral arrangements under The Giving Tree with a little sign for people to buy the floral arrangements and all the money would go to the local Montrose fire brigade. She raised $500 from that."
Soon after, Victoria was thrust into lockdown 5.0 and the Montrose Township Group had a committee meeting where they decided something needed to be done to lift spirits around town.
"There were a lot of people around town with such a long face and none of us like going into lockdown and we thought okay, how can we start putting smiles on people's faces around town."
The idea that came out of the meeting was to decorate the tree with a flag garland but since then residents have added their own touches to The Giving Tree.
"When Covid first started, we didn't expect it to be as long as it has been. So did we expect The Giving Tree to become as popular as it was? No, not at all. Does it now have a name? Absolutely. Is it now going to be used in the future? Absolutely."
The Montrose community recently created its emergency management plan and chose The Giving Tree as its meeting point.
"So it's the tree that keeps on giving."