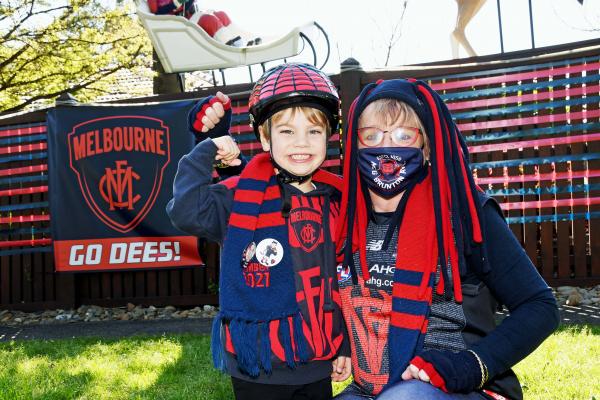 By Mikayla van Loon
No two AFL teams have experienced more premiership droughts than Melbourne and the Western Bulldogs making it a tale never to be forgotten.
While, yes, the Western Bulldogs have since brought that drought to an end, 57 years have ticked by since the Demons' last flag in 1964.
Dedicated Demons' fan Debbie Brasher, 55, from Montrose has been waiting her whole life to experience the excitement of a grand final win.
But Ms Brasher's Demons' spirit runs deeper than that and every inch of her house she could possibly decorate has been covered in blue and red.
"Everyone knows I go all out, so this is just another all out thing," she said.
Having bought 1500 metres of red and blue ribbon, Ms Brasher's picket fence has been transformed into the colours of the Melbourne flag.
Inside, the theatre room has been decked out with balloons, streamers and Melbourne Football Club flags.
Her house isn't the only thing that has been decorated though, with Ms Brasher donning her Melbourne socks, jacket, jumper and scarf every day since the preliminary final win.
Passed from generation to generation, being a Melbourne supporter is in her blood.
"My dad died at 52 and he barracked for all his life and then my dad's dad, he was a Melbourne supporter, so it's right through our whole family," she said.
"We're definitely Demons' through and through."
Ms Brasher has since passed on her love for the Melbourne Football Club to her daughter and it has become a joint passion the two of them can share.
Since the sudden death of her son Corey four years ago, Ms Brasher and her daughter have used the football as a way of spending quality time together and have travelled to as many games as possible.
"Since then my daughter and I decided to become members of Melbourne and make our weekends at the footy our special time," Ms Brasher said.
"This year we went to every single game we possibly could. We went down to Tasmania, to the footy the weekend before Mother's Day. So that was our Mother's Day weekend."
Ms Brasher and her daughter plan to spend grand final day just the two of them, eating cheese and biscuits, as well as classic footy food like hot dogs, pies and of course doughnuts.
Although devastated they couldn't be there in person to experience the roar of the crowd, Ms Brasher said they did consider every option to get to Perth for the grand final.
"We're happy that there's another team from Melbourne in the grand final, it's just so devastating that it's in Perth," she said.
"We would have been there or we would have been wherever they were but it's life, you just can't do anything and there's no use whinging about it.
"It's something like 56 years. It's a long time to wait and let's hope they get up there and win. Even the Bulldogs people I've been speaking to that I know, they're all like, even if Melbourne wins we can't be broken hearted because you deserve it."
And having sold their tier one barcodes to a single mother and a lady who couldn't afford to go to the grand final, Ms Brasher knows her tickets aren't going to go to waste.
She also hopes for everyone stuck at home in Melbourne, the grand final brings a bit of enjoyment to their lives in lockdown.
"Even for people who don't follow football, let's hope it gives them a little bit of excitement, something else to look forward to and it's something to keep them occupied, at least for the day."