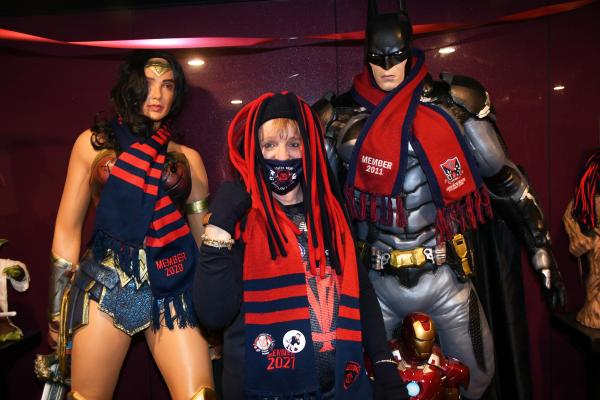 By Mikayla van Loon
We're just hours away from the first bounce of the biggest game of the season and for footy fans from all over the Yarra Ranges, the nerves and excitement have started to kick in.
The entire AFL season has been building up to this moment and will see the two best teams battle it out for the title of the 2021 premiership team.
But while the Western Bulldogs and Melbourne Demons' football teams prepare to take the field, fans will be waiting anxiously in anticipation.
Demons' supporter Debbie Brasher said the nerves were forming as soon as she woke up on Friday 24 September and she had to keep herself busy all day to take her mind off the game.
"My tummy just gets butterflies every time I think about it so I just turn my mind off that and think of something else," she said.
With the grazing platters and footy food all ready to go, Debbie will be making sure her decorations have the final touches in the lead up to the game.
For doggies supporters Jodie Marsh and Sue Riley, getting to experience the atmosphere of the 2016 grand final was unlike anything else.
"It was just so exciting. And the build up to the 2016 Grand Final was amazing, coming from seventh on the ladder and then winning all the prelims, I will never forget that, it was so thrilling," Sue said.
"I think it's nice to have that one grand final under your belt and go well 'we can do it, we've done it before' and we seem to be in the same good form so I'm just so excited for it."
No matter which side of the fence you sit on, the disappointment of not being able to be at the game this year is hitting hard for passionate and life-long supporters.
"I think I have mixed emotions. I'm pretty I'm frustrated that I couldn't be there to see it with my dad but I'm really excited. I hope we get the win but I think Melbourne are very deserving as well," Jodie said.
Seeing how well Melbourne have played throughout the season and in the preliminary finals, Jodie knows there is a good chance Melbourne could take home the premiership.
"I'm extremely nervous. Melbourne are very dominating and if they have the same form as they did against Geelong, in the prelim final, I think we won't have a chance," she said.
"2016 was a drought for us. 2021 is the drought for them. I'll be more than happy if the doggies win but I think Melbourne are also very deserving."
Whether a Melbourne or Western Bulldogs supporter, no one wants to see one team run away with the lead early on.
Debbie, Jodie and Sue hope to be sitting on the edge of their seats, cheering on their teams right until the very end.
"I would love to have a really good first quarter but I think any quarter can win a game or lose a game and it's not over until the end," Sue said.
"If we're down and get getting smashed, I won't ever give up because we have
a lot of belief, this team."
"I always prefer a good game. I'd like [Melbourne] to kick a few goals in the first quarter so that they're up there a little bit so they've got that little buffer but you always want a good game, you don't want a blow out," Debbie said.
Only time will tell as the clock counts down to the players running onto Optus Stadium for the game with two possible fairytale endings.