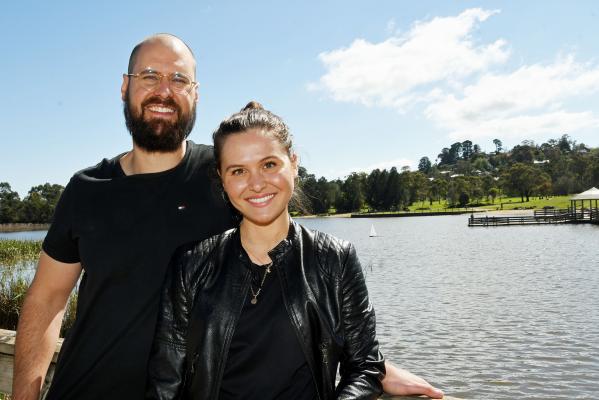 By Mikayla van Loon
The stigma around seeing a counsellor or psychologist in today's world has changed dramatically.
It is now more accepted that people may need a little bit of guidance and help along the way, particularly during a global pandemic.
One Lilydale couple has taken the trouble out of finding an appointment with a counsellor by creating an online platform which has made connecting with the right psychologist even easier.
Sarah and Ruan de Witt, alongside programmer Eric Nastase, launched talklink in July and have since had thousands of inquiries from people wanting to be connected with a counsellor.
"We anticipated slow and steady growth. Usually these things do take time so we were anticipating growing within a year or two years but already, within three months, we've hit the thousands in terms of inquiries," Sarah said.
Since launching, it has become evident that people aged 20 to 40 were really needing to find some extra support.
Currently, wait times around Australia to see a counsellor can be up to eight months long, as people work on improving their mental health after two extremely challenging years.
But Sarah said those wait times don't include the time it may take for someone to form a quality connection and relationship with their counsellor.
"It's a bit hard to tell whether you connect with someone by an old status photo and an out of date bio or someone over the phone randomly telling you 'yep, sure, there's someone available in your area, book into see them' without getting any sort of a feeling sense of who they are.
"So that was the thinking behind talklink, just to make it a really modern and approachable experience for people seeking mental health help support."
Sarah said talklink is about normalising the need to seek support, whether someone is anxious, depressed, is having relationship issues or has just gone through some major changes in life, it's ok to need "extra mental health tools in your tool belt."
"It's just making it okay for people to go, 'I'm struggling a bit right now. I might just go talk to someone' and an investment of one to two sessions might give you the tips and strategies for you to live a happier, more fulfilling life," she said.
"If something just pops its head up, it's better to nip it in the bud a lot sooner and there's so many counselors and psychotherapists that are really well equipped to be able to deal with it.
"They're really fantastic when life throws you curveballs, rather than having to go through a real formalised process and waiting six months to get support."
Mental health data from the Australian Bureau of Statistics shows young people between 18 and 34 have the highest rate of poor mental health (30 per cent) and that has the potential to get worse as isolation from society continues.
Although Sarah and Ruan began planning talklink seven years ago and could never have envisioned a world of lockdowns and social disconnection, they have been able to help so many people since launching.
Talklink connects you with a counsellor anywhere in Australia within eight days of your inquiry. Find the right counsellor for you by viewing the different bios, videos and costs.
If you're not quite ready to go down the path of counselling just yet, Ruan also hosts a mental health podcast which is free to listen to but might just help with any struggles you're having right now.