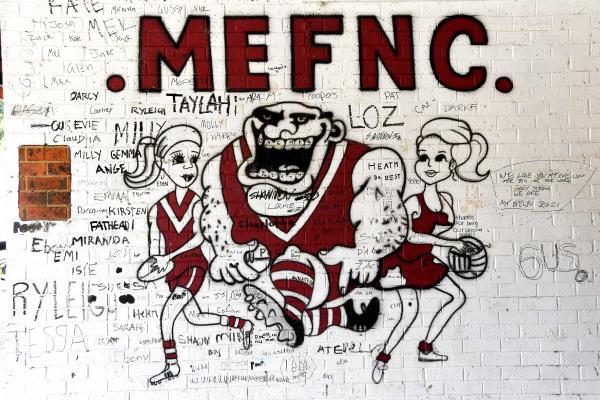 By Mikayla van Loon
It's taken six years for a new sports pavilion at Mount Evelyn Recreation Reserve to be approved and just when works were about to begin, an oversight by Yarra Ranges Council has delayed the build once again.
Mount Evelyn Sports and Community Hub (MESCH) president Bryan McCarthy and vice president Mal Darke had been aiming to have the current pavilion demolished by the start of August with the build starting early September.
But even though the council approved the planning permit, the Department of Environment, Land, Water and Planning (DELWP) had not signed off on the build prior to the permit being issued.
"The council has failed to let DELWP know that this is what was actually happening and they've actually approved the planning application without DELWP's input into it," Mr McCarthy said.
"Not that they probably would have stopped them from approving it but they would have put conditions on there to obviously protect the bush."
Mr Darke said DELWP would have been consulted in the very early stages of the council's master plan for Mount Evelyn in 2015.
"The council should well and truly know that DELWP was the owner of the land because they would have consulted them through the revision of the master plan. So it's a huge mistake," he said.
Mr McCarthy said the repercussions and worst case scenario would be that the builder pulls out, contractual penalties and costs are imposed and the cost of building materials may go up which could eat into the designated budget.
The football and cricket clubs which use Mount Evelyn Recreation Reserve will now also be without their own club rooms for the majority of next year's season.
"The delays we're experiencing now, it's obviously going to be tacked on so we're probably not going to have rooms for the entirety of the home and away season," Mr Darke said.
"So there's financial impacts for the junior club, there's financial impacts for the senior club not being able to hold functions, not being able to have home games, not being able to have the same amount of people come through the gates every weekend to watch local football."
Billanook ward councillor Tim Heenan said Yarra Ranges Council has been working closely with DELWP to resolve this issue.
"DELWP has given their consent for an amended permit to be issued subject to conditions, which Council has now amended and issued. Beyond that, no other changes to the permit conditions have been made," Cr Heenan said.
Mr McCarthy and Mr Darke understand that further provisions may be put in place for the build after DELWP's review but they are concerned it will mean certain features that had been planned for the building will be compromised.
"We are not looking forward to having a lesser building than what's already been agreed to by us," Mr McCarthy said.
Cr Heenan said once a building permit has been issued, the pavilion works can get underway but with recent construction industry shutdowns, this could be delayed even further.
"I sincerely hope that this sort of oversight never happens again," Cr Heenan said.
By the time these issues are resolved, it could be late October before demolition works begin.
"The current building is empty, it's been stripped of anything usable and all the memorabilia. So the building's not actually in a condition that can be used by the clubs. It's just an empty shell at the moment waiting for demolition."