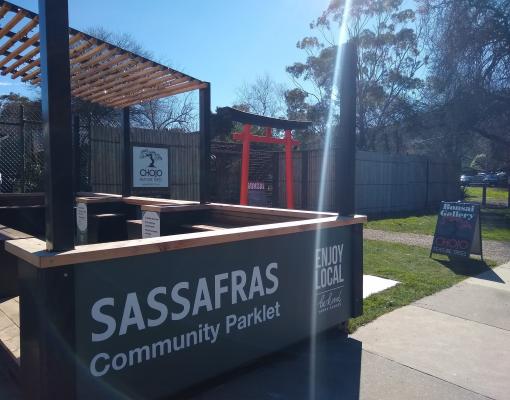 Community Parklets have been installed in townships around the Yarra Ranges, preparing the region for visitors and residents heading outdoors for picnics and social interaction.
Council has designed and installed parklets as part of the State Government's Neighbourhood Activity Centre Renewal Fund, to encourage people to connect with their communities, support local traders, and take congestion off footpaths as restrictions ease.
Parklets have been installed in Upwey, Kallista, Olinda, Sassafras, Mt Dandenong, Montrose, Mt Evelyn, Seville and Healesville, with seating and tables for enjoying drinks and food from local businesses in a Covid-safe way.
The parklets also showcase the talent of our local artists, who have also been heavily impacted by successive lockdowns. Each parklet features bespoke artwork that was commissioned earlier this year, along with links to see more of each artists' work, meaning that each parklet is unique to the township it is placed in.
The parklets were designed inhouse with a focus on sustainability, being produced from recycled shipping containers, sustainably sourced timbers and native plants.
The modular design will enable them to be reused elsewhere in the municipality once they are no longer needed in the centres.
Each parklet will be fitted with accessibility ramps and consideration was put into colour choices and spacing to maximise ease of access for everyone in the community.
As restrictions ease over spring and summer, these parklets will be important in providing a Covid-safe way for locals to enjoy their communities – and local cafes and restaurants – outdoors.
Dion Bright of Geppetto's Workshop, and President of the Sassafras Township Group, hopes more people will be able to enjoy the Parklets, and support local business, once lockdown ends.
"I have seen people in them since the very first day," he said.
"I think they're beautiful, they fit the landscape and look like they belong. They're informative too, and showcasing two local artists, that's wonderful."
Rebecca Wolske, a textile artist whose work appears on the Mt Evelyn Parklet, said she was excited to be part of the project.
"It was amazing to be selected. We'd been in lockdown, and missed out on so many exhibitions. It was getting disheartening," she said.
"The fact that Council paid us – and our art gets to be out in public – made me feel wonderful."