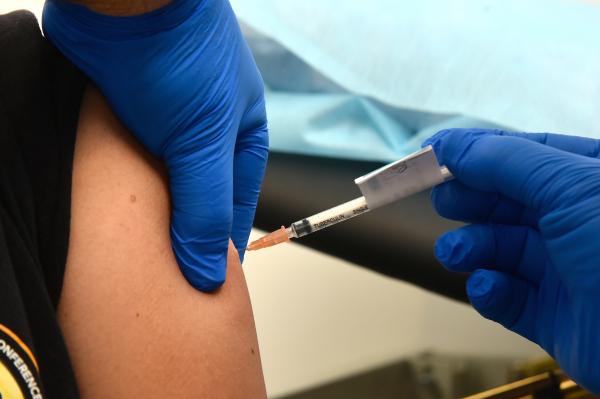 By Gabriella Payne
The Victorian government has announced that from early October, the interval between Pfizer vaccine doses will be shortened to three weeks at state run facilities, in a bid to hit the state's double dose vaccination targets sooner.
This change has been made thanks to the state hitting its 80 per cent first dose vaccine target recently, and with the federal government providing assurances and "firmer projections" on vaccine supplies.
The three week wait time between doses will come into effect on Monday 4 October – meaning that anyone who has received their first dose of the Pfizer vaccine will be able to bring forward their second dose appointment if they choose to.
The changes in the state government's vaccine booking system will be made overnight on Sunday 3 October so that by Monday morning, people will be able to book their second jab three weeks after their first.
This announcement comes after Victoria recorded its highest-ever daily Covid case total on Thursday 30 September, with 1,438 cases detected from over 65,000 tests processed the day before.
There are currently 11,018 active Covid cases in Victoria, and the list of exposure sites continues to grow throughout the state.
Premier Daniel Andrews said that while it was great to have hit the state's 80 per cent first dose target, he urged people to continue rolling up their sleeves and to keep booking in to get vaccinated.
"We reached our first stop on the roadmap, but we need to keep the momentum going and today's change will help us reach those double dose targets as soon as possible," Mr Andrews said at Thursday's press conference.
Minister for Health, Martin Foley, reiterated the message that getting vaccinated as quickly as possible is the best and fastest way to get out of lockdown.
"If you've been putting it off or waiting to get vaccinated, don't wait any longer," Mr Foley said.
"The best vaccine is the vaccine you can get today and we need to get as many Victorians vaccinated as possible to get back to the things we love."
The state government encouraged people not just to look for appointments through state run facilities, but to check in with their GPs and pharmacists as well, in a push to reach the roadmap thresholds sooner.
The next threshold in the roadmap will be reached when Victoria hits its 70 per cent double dose vaccination target, which was projected at or around the 26 October mark, without this new reduction in dosage interval.
As of Thursday 30 September, 49.5 per cent of eligible Victorians have been fully vaccinated.
To book a vaccination through state-run centres, or to see links for how to book at your local GP or pharmacy, visit www.coronavirus.vic.gov.au/vaccine