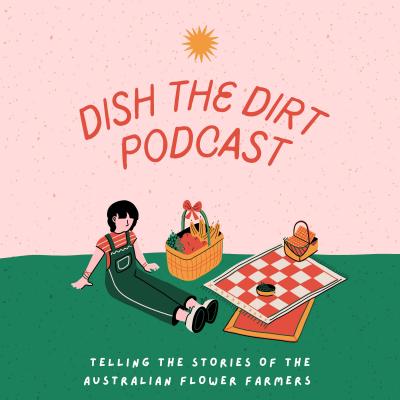 By Renee Wood
Flowers are a custom so many enjoy for special occasions, decorating the home or in the garden, but now bloom lovers have the opportunity to listen in and learn about life as a flower farmer.
A Healesville florist is sharing the stories of Australian flower farmers through a dedicated podcast called 'Dish the Dirt'.
Rebecca Noble set off to create the series to grow greater connections between florists and farmers after noticing freelancers she worked with were unaware of Victoria's vast array of farmers.
"It's an amazing industry with so many amazing growers, we've heard from people up and coming and a huge trend towards women who have had career changes and now are turning towards flowering and that is pretty awesome," Rebecca said.
Since it began in March last year, more than 45 episodes have been released with each episode a profiling a different producer who's sharing their triumphs and challenges and how they got into the industry.
Now in its fifth season, Rebecca has seen the interest for their stories blossom with over three thousand listeners each episode.
Many Yarra Ranges farmers have featured on the podcast, including this week's episode with Monvale Flowers.
Farmer and wholesaler Meaghan Harding said she's noticed a stronger connection within the industry since the podcast began.
"I myself have made a lot of friends by conversing with people over the podcasts and how much we've enjoyed it. It's created a little mini community," Meaghan said.
While those listening are invited to learn about the daily hard work that goes behind producing strong stems.
"It's helped me because the things that I struggle with, when I hear someone else talk about it, I think oh good it's not just us and I do think that a lot of florists probably appreciate understanding how hard it is to grow a flower and what goes into it."
The podcast is also building awareness around the importance of buying locally grown and learning about the products florists and consumers are buying.
"I don't think that we will ever not have imports in Australia because we need some of them, we can't grow certain types, like orchids," Rebecca said.
"But it's great if people choose locally grown over imported if they can and if you're buying locally grown, the chances are that you're not getting the huge amount of chemicals that you would had you purchased imported roses for example.
"And there's a huge trend towards the dried and bleached flowers, which I think is probably worse. They're incredibly bad for the environment; they will never break down and enter the ground again.
"They have so many chemicals on them, and they are also wiping out farmers because florists aren't looking for local fresh flowers, they're looking for dried bleached imported flowers."
If you'd like to tune in to hear farmers passions and insights, listen to Dish the Dirt on Spotify https://open.spotify.com/show/34PEgryAEuA4hmnaICYkUm