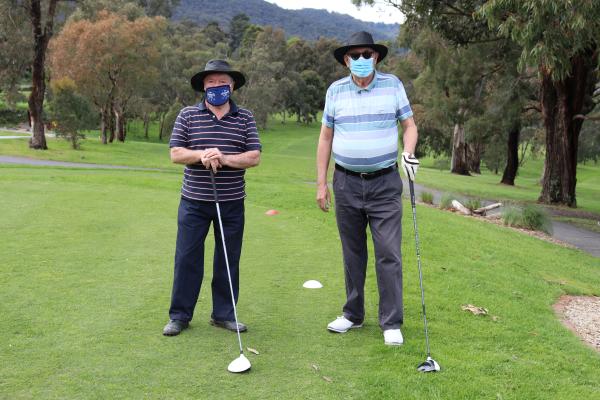 By Mikayla van Loon
Golfers of all ages were keen to return to the course last week, rain, hail or shine, making the most of the easing of restrictions on contactless sport.
For high school teachers Tyson and Paul, the final week of their school holidays were spent playing as many rounds of golf as possible, braving the unpredictable weather at times.
But as much as it was about getting back to the sport itself, Tyson said it enabled him to catch up with friends and be active in a different way to just walking.
"I suppose the difference between being at home and chipping in the backyard and putting down the hallway, it's nice to be able to get fresh air for a more extended time and be able to play with one of your mates and have a catch up with them as well," he said.
Apart from the competitive nature of golf, Paul said the social aspect was one of his favourite parts about the sport.
"Being able to catch up with your friends while you're playing was a big part of missing it and the activity itself and being able to walk around the grounds outside, it's something we can't really replicate very easily outside of playing golf," he said.
After such a long break from playing and not being able to practice all that much, apart from some putting down the hallway, Adam Ward was surprised by how his skills had remained.
He was even more surprised to hit a hole in one on the seventh hole at Gardiners Run Golf Course on Thursday 30 September.
"That's my third one. I was lucky enough to have two in competitions but because we can't play competitions that was just a social one. It's been 15 years since I had one and I didn't think it would come back again. It's so much luck so I was pretty stoked," Mr Ward said.
"It's just so euphoric and you just don't think it'll ever happen because you get close so many times."
Having not seen it himself, Mr Ward only found out about his successful shot by the cheers coming from staff and the golfers ahead of him.
"I knew it was going to be close because it was right near the pin. They all started cheering and that's when I knew it went in."