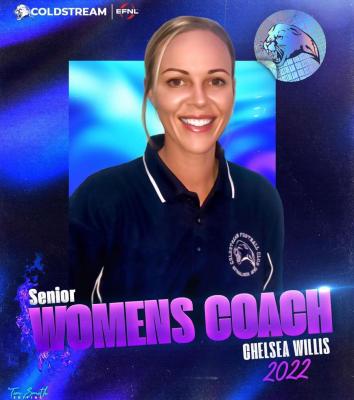 By Renee Wood
The Coldstream Cougars have announced two new leaders for its women's side heading into the new season.
Cougars player Chelsea Willis has been named as coach, while North Ringwood player Sherie Wood will work alongside her as assistant coach.
Chelsea joined the club in 2020 for the Cougar's inaugural year but suffered an injury at the start of the 2021 season.
Despite the setback, Chelsea continued to support the team and the new recruits in a non-playing role – something the club saw great value in and asked her to step into the lead role.
It's Chelsea first time in a coaching position after playing two season of women's footy and school football.
The new coach is excited to take on the role and said she's extremely passionate about growing women's footy.
"Football has always been a big part of my life, that's why I made the decision to come across to Coldstream in 2020 to be part of creating a pathway for junior, senior women's football, and being a part of that initial stages of setting up a club," Chelsea said.
Chelsea and Sherie already have a strong bond from playing together for the North Ringwood Saints and being part of the team's premiership win in 2019.
Sherie will bring prior leadership skills to the role from coaching teams between under 10s and under 16s and time as an assistant coach to other youth sides.
The new assistant coach also has years of experience on the field with around 180 games under her belt.
"My playing knowledge is really helpful and I can see it from a coaching perspective and how to explain why we need to do something a certain way," Sherie said.
"Also, being able to develop the girls skills, I've been taught a lot of different ways how to do things so being able to be diverse in my coaching."
The duo will lead a strong committed squad who has stayed connected in the midst of two interrupted seasons, with everyone hopeful a preseason will start in November.
"It's a great opportunity to work on and educate the girls around injury prevention, there is an element of strength and conditioning that we really need to focus on as women are more susceptible in some areas," Chelsea said.
"Motivation isn't an issue for the team which has been really great, they're itching to get started now and players are doing stuff individually, so trying to keep that up and not lose momentum through the off season."
The team is also keen to see new players join the Cougars for the upcoming season.
"The culture at Coldstream is really solid and initially that's what enticed me to want to stay on in some sort of capacity," Chelsea said.
"The women we do have in the team range from from 16 years olds through to 38 and the friendships they've made have been amazing."