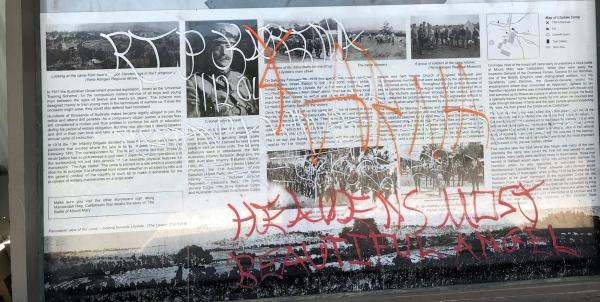 By Mikayla van Loon
A number of war landmarks have been graffitied and vandalised in the last week, leaving war veterans utterly disappointed by the lack of respect.
The light that shines on the Australian flag of a night time at the war memorial park at Mount Evelyn has been stolen, while a storyboard about Sir John Monash has been graffitied at Lillydale Lake.
Mount Evelyn RSL vice president Roger Boness said on either the night of 28 September or the morning of 29 September someone has used a crowbar to break into the lightbox.
Not only has the light itself been stolen but Mr Boness said all the electrical wiring had been cut.
"It is very disappointing. Mount Evelyn RSL has spent a lot of time and effort on the memorial park," he said.
"It should be respected and it usually is. This was a real shock to everyone."
Lilydale RSL president Bill Dobson said nothing of this nature has happened before at Lillydale Lake but graffiti has appeared on the Lilydale cenotaph.
The storyboard marks the location of a militia camp that was set up in 1914 for soldiers to train.
"That's a tribute to Monash and Monash is the greatest general and is also a scholar outside of the military and an engineer and to see something defaced like that was very disappointing," Mr Dobson said.
"Like all monuments it's a sacred site I suppose and no one should be writing on sacred sites. That's just my view, whether it's Monash or anybody else. We need to look after sacred sites because they remember people's sacrifices."
Unfortunately this is not the first time war memorials have been targeted, with Mr Boness saying 11 years ago the Mount Evelyn flag and flagpole was stolen completely and five years ago someone was caught graffiting the monument.
Mr Boness also said roses that had been specially propagated in Morwell to replicate the Flanders Field poppies were stolen twice after being planted and replaced.
RSL's work to keep the memory of the fallen alive by passing on the history of wars and conflicts to younger generations.
"The war memorial is a place for primary school kids to learn about conflicts and the effects of those conflicts and the migration that happens afterwards," Mr Boness said.
"It is a special place. All of Mount Evelyn's fallen are named on the monument."
The light was installed in Mount Evelyn a number of years ago with the help of the Lilydale Rotary Club to ensure the Australian Flag could fly at night.
The protocol for the Australian flag to be flown at night requires it to be illuminated by light.
Mr Boness said the light has also become a safety feature in Mount Evelyn as it is automatically activated at dusk and is connected to the toilet block.
Mount Evelyn RSL received an influx of community support, with a number of electricians offering to replace the light for free.
Yarra Ranges Council have since stepped in to replace the light and repair the lightbox, with an OH&S approved and energy efficient system, as well as removed the graffiti from the storyboard.
Victoria Police have also been notified and are investigating. Mount Evelyn RSL are asking anyone with any information to please contact the police.