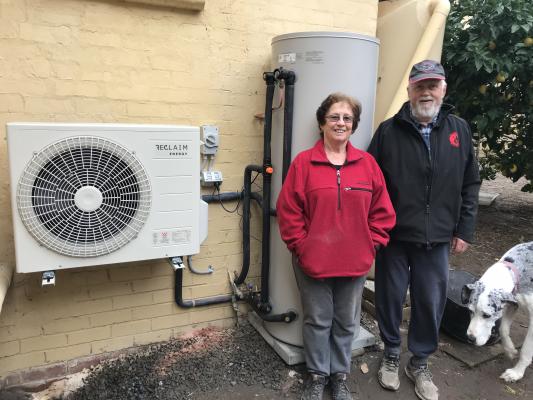 Greater Yarra Valley and Ranges households could reduce their energy bills even further, thanks to the first bulk-buy launch from the recently formed Yarra Valley Community Power Hub.
Designed to encourage greater investment in solar energy, the initiative offers community members access to top-of-the-range solar hot water pumps at a significantly reduced cost. The heat pumps have been sourced from a trusted quality supplier, with the backing of the local Hub, and use between 60 per cent to 70 per cent less electricity than traditional electric hot water heaters. Chris Taylor, managing director of Reclaim Energy will be speaking, to discuss the advantages of the premium heat pump system.
The result for households will be reduced electricity bills, meaning the heat pump could pay for itself in just a few years. Savings of at least 80 per cent off the electricity bill can be expected with up to 100 per cent for those with solar panels.
As part of the launch on Wednesday 10 November, the Yarra Valley CPHub is hosting a corresponding online event (https://www.yvcommunitypowerhub.org.au/). Executive Officer of the Yarra Valley CPHub, Jeff Barlow, said the launch marks the first major initiative for the Hub since its formation in July this year.
"We are proud to offer projects like this for our local communities. We are focused on delivering initiatives such as this so we can create meaningful change locally," Mr Barlow said.
"We want the community to experience just what can be achieved through investment in renewables, such as a reduction in energy bills, job creation and helping the environment."
Funded by the Victorian Government and delivered by Sustainability Victoria, the Yarra Valley CPHub is one of seven Community Power Hubs Victoria wide and comprises six local energy groups, including Healesville Community Renewable Energy Inc. (Healesville CoRE), the group that initiated the grant application.
The online event will also provide households with the opportunity to learn from industry experts Jonathan Prendergast (Komo Energy) and Rob Morris (IO Energy) how households can use solar electricity without solar panels! In addition to providing information about the community heat pump offer, they will explain how you can efficiently manage energy demands, while reducing costs and emissions. In this webinar presentation, 'Go solar without rooftops,' Jonathan and Rob will also cover new ways for households to find the cheapest electricity available – an alternative to investing in solar panels.
Managing Director, Reclaim Energy, Chris Taylor, encourages the community to take advantage of this initiative and learn more about their quality heat pump solar device.
"Reclaim Energy is committed to supporting community-led energy saving initiatives. We are proud to support local leadership in the community and believe that these groups are providing the local leadership necessary to progress innovation across Australia," Mr Taylor said.
"Local communities represent the foundation by which Australia has been built; to support these communities is both a pleasure and an extension of our core values, which is to leave our country in a better state than we inherited."