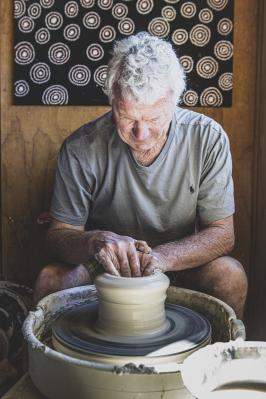 By Renee Wood
It's not every day budding ceramists and pottery lovers can wander into one of Australia's leading potter's studio – but come November 13 and 14 those interested can do just that.
Australian master potter and sculptor Ted Secombe is joining the national open studio event with the Australian Ceramics Association, inviting residents into his Dixons Creek studio and gallery.
Mr Secombe has been part of previous local open studio programs however, this will be the first time he's joined the national weekend.
"There'll be a lot of professionals and semi-professionals who want to visit your workshop, and I think it's an important thing they do that because working as an artist is very isolating, so you tend not to interact a lot with community," Mr Secombe said.
The ceramic practitioner's techniques on the wheel and interesting glaze mixtures create one of kind pieces that are sought after across the country and internationally.
Artists are invited to watch demonstrations and pick the brains of the open book, who's generous with sharing his knowledge learnt from the past 42 years in the industry.
"If past custodians of this knowledge had not been generous, we'd all be starting from scratch every time we went into this profession.
"I've learned from some, and a lot of techniques I've developed myself, but without the grounding or the initial studies in these things I wouldn't know where to start – I've just developed it further."
Questions may be asked on how Mr Secombe's been working with Porcelain mixtures for the past two years as manufactures switch to importing porcelains due to Australian clay resources drying up.
Mr Secombe said he's seeing clay bodies with completely different personalities on the wheel and glaze responses from firing.
"Success requires a great deal of adjustment. Losses can be significant with the only way through this being a rigorous testing programme, which is frustrating, time consuming and expensive. Around 6 months of testing time has resolved the issue and I am now happy with works coming from the kiln."
The open studio free event is not just for those in the industry – the broader community is welcome to step inside the artist's world and become familiar with his works.
This year the potter has revisited past glazes, including the copper reds and celadons and his signature crystalline glazes.
"I think it's a really good thing interacting with the community because people can't really get their heads around what a lot of artists do and a lot of what I do is very complicated, very high tech work. So it's nice if people can just wander in and see it."
Mr Secombe has lived in the Yarra Valley for thirty years and has previously joined YAVA's open gallery events – and will do so again in December and March's open studio days.
For more information visit www.tedsecombe.com