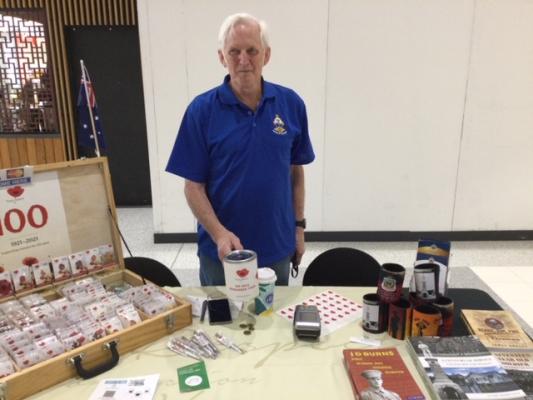 By Mikayla van Loon
After having three Poppy Appeal tins stolen from local traders, Lilydale RSL has seen an overwhelming amount of support but are still disappointed by the selfish act.
RSL president Bill Dobson said however, the actions of what seems to be just one person does not reflect the rest of the community.
"It is disappointing but it's not going to affect Remembrance Day in any way," he said.
"It's only one individual, so we still have belief in the Lilydale community. There are really nice people in the area and it's only one individual, so we can't judge everyone by that."
Victoria Police has confirmed it is investigating the thefts from three different locations across three different dates.
"Investigators have been told charity collection tubs were stolen from three businesses in Lilydale in October and November," a spokesperson said.
"The thefts occurred at a business on Castella Street on 26 October, and at two separate businesses on Hutchinson Street on 3 November and 5 November."
Since the tins were stolen, which contained an estimated $300, the sub-branch has received many donations from people who had heard about the thefts.
"There's a lot of good people out there and one guy who gave us $1000, we said 'look, we didn't lose that much. You don't have to give as much as that'," Mr Dobson said.
"And his words were 'the good people have got to fix up things that the bad people are doing.' So he refused to take it back and he insisted that we have the $1,000."
Mr Dobson said the Lilydale community are always very supportive of the Poppy Appeal and are always willing to help where they can.
From local traders in the Lilydale Marketplace, to Bunnings and local primary schools, many people in the community get involved to support veterans in need.
"We think of all the people that have donated now, it's just been terrific, generally speaking, the Lilydale people are terrific.
"People are very generous when it comes to poppy selling, we are right up there with other areas around the state and we're only a very small RSL. So we punch way above our weight when we raise money."
Half of the money raised goes directly to the welfare of veterans in the local area, to provide support for whatever they may need and the other half goes to Anzac House.
The RSL branch then has until the end of December to use the money for veteran's welfare and wellbeing.
"When you look at the money, all the money goes to welfare, to people who need the money. There's no one at the RSL that takes a wage, everyone's a volunteer, the barman, the gardener, the poppy sellers," Mr Dobson said.
"We've got some veterans who are struggling a bit. One young veteran, we're paying his utility bills and that sort of thing.
"And we're putting out Covid packages with gift cards from Coles and things like that, not for all the members but there are some that are struggling. So I think we gave out 30 odd baskets a week ago and a gift card."
Having seen the response from various donors, Mr Dobson said "it just shows there's a lot of good goodwill out there."