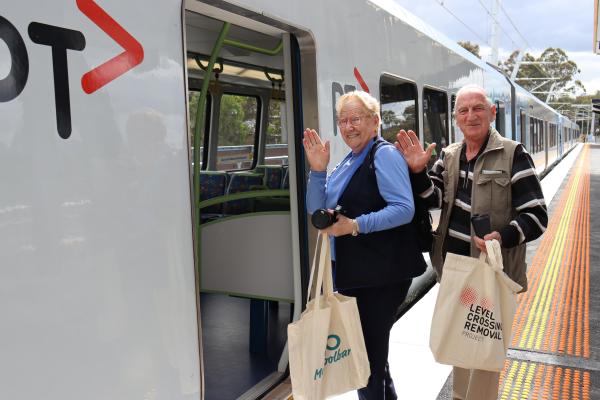 By Mikayla van Loon
Mount Evelyn residents will be able to return to train travel once again now that the local stations just down the road have opened once again.
The anticipation was rife as Mooroolbark and Lilydale residents and commuters made a return to using train travel for the first time in months as the new stations opened to the public.
Before dawn broke on Friday 19 November, young and old gathered at the stations to witness the first train pulling into the brand new skyrail platforms.
School students could be seen boarding trains all morning, as well as many eldery residents who had been awaiting the return of their public transport network.
Buses will no longer shuttle people from the stations to train stops further down the line in Ringwood and Croydon, making the commute for Mount Evelyn residents more straight forward.
But more people were just curious about the construction and being able to head inside the new stations for the first time.
Local Mooroolbark resident Peter said his son and his wife had been to the station earlier in the morning and they told him he had to head down to have a look.
"So my wife and son came down this morning because my son goes to school at Hawthorn," he said.
"Today's the first day he has been able to actually catch the train from Mooroolbark again and so he's wrapped and my wife said you've got to get down here and have a look at the new station because it's fantastic."
Peter said after having a look around, he could not believe the difference it has made to the area.
"It's been a long time coming and as I was just saying to one of the workmen, remembering how the station was prior to the works starting and after having a quick look just now, there's no comparison, it's brought us into the 21st century actually."
The other aspect of the upgrades at Mooroolbark station is the inclusion of a 900 space multi deck car park, something Peter said will only encourage people to use public transport more in the future.
"[Parking] has always been a problem and to encourage people to use public transport you have to have the ability for people to park either at the complex or within close proximity.
"So this would be a great asset and it would encourage a lot of people to use the train system, which is what everyone wants."
Fellow Mooroolbark resident and employee at Sadie and Co Boutique, Nicky said with the stations opening, taking her children to school was also much easier on Friday 19 November as Brice Avenue reopened to cars.
From a business perspective, Nicky said having cars able to use Brice Avenue again and having people walking the streets has only been a benefit.
"Just the foot traffic now for us, there's going to be so much more traffic because the trains are going to run today and that's the thing, it's been really quiet because there's not really been as many people walking past getting off trains," she said.
"But also they haven't been able to drive down and because it's so unclear, you can't turn right and there's so much going on that people think I'm just going to avoid Brice Avenue so it's been a bit of a nightmare."
Nicky said all morning people were stopping to sit outside and watch the trains go past which was so nice to see.
The stations were the forty eighth and forty ninth level crossings to be removed across Melbourne and Monbulk MP James Merlino toured the Mooroolbark site to see the works first hand.
"We're thrilled these dangerous and congested level crossings are now a distant memory – they'll slash travel times and make roads safer for 53,000 motorists that use them each day."