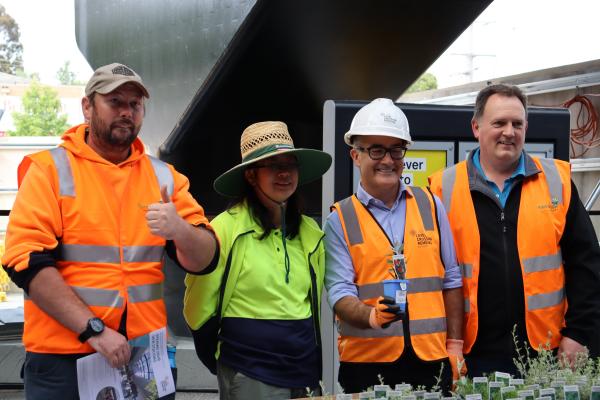 By Mikayla van Loon
Mount Evelyn's Yarra View Nursery has been working for months on end to be able to supply 60,000 plants to the level crossing projects Lilydale and Mooroolbark for the landscaping works.
To mark the occasion of the new Lilydale and Mooroolbark stations opening, Yarra View Nursery came along to hand out free native plants to the public.
Knoxbrooke's executive general manager of the social enterprise, Scott Buckland, said lots of people were interested to learn about the nursery and the work they do as they stumbled on the team at Mooroolbark station on Friday 19 November.
Even though the nursery is in a prominent location in Mount Evelyn, just off York Road, Mr Buckland said not many people know they are there.
"People don't really know [about us], there's trouble in that connection. They just see plants and plants come from a nursery but I mean when you tell them the story and that we're local, that we're just down the road they're amazed," he said.
"Lots of people have also been interested in what we're doing in terms of the plants that are going into the landscape here so there's been plenty of interest."
As a token of what people can expect as the landscaping gets underway in the next few weeks at both stations, Mr Buckland said they were handing out plants similar to what will be planted.
"It's quite an interesting mix. It's majority native but there's a few exotic plants right in the station area, which I think they're trying to get back to what it was like years and years ago when the station first opened up."
The supply of plants to Lilydale station will start as of next week, while Mooroolbark won't begin until early next year.
Having first worked with the South East Program Alliance on the level crossing removal at Bayswater station, Mr Buckland said Yarra View Nursery has now been locked in to supply plants on another two projects with the Alliance.
"That's what we need. This is great to have one project but you need to have sustainable projects ongoing all the time to keep people employed not just for the life of the project," he said.
"This project itself probably generated 5000 hours but in a short period of time, so for four to six months, that's great but you need that for years because these guys need jobs."
Mr Buckland said historically it wasn't known when partnerships between a social enterprise and a major building project occurred, if they even happened at all.
"Years ago, social enterprises weren't seen as something that was really important from the economic point of view but these days it's a lot different and people understand the importance of it and the opportunities it creates.
"There's a lot more awareness and I think more and more that'll allow us to have a lot more confidence to be promoting to the public.
"A lot of our promotion historically has been behind the scenes to projects like this because they get it and there's a government drive whereas the consumer doesn't really drive the change."
For the staff at Yarra View Nursery who have been working on getting the plants ready for the station landscaping, Mr Buckland said it has been a really exciting project to watch take shape and the lasting impact it has on the staff who get to say "I did that" is incredible.